Profile Images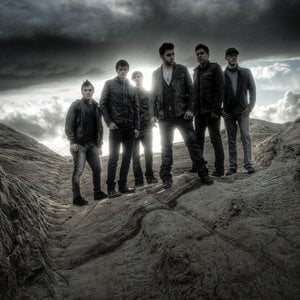 User Bio
Typical of a sharp sense of humor as vibrant as his lead vocals and bright harmonies, charismatic Skyrocket Love frontman Jeremy Bassett likes to say that he's "the guy with the vocal ability to win over all women and men and even some farm animals big and small."
The jury is still out on the barnyard critters, but the band's fan base has grown at an incredible pace since Bassett and keyboardist, co-writer and Skyrocket Love co-founder Merritt Graves began playing gigs in their adopted hometown of L.A. in late 2009. Influenced by such artists as The Killers, Daughtry, Muse and OneRepublic, Skyrocket Love has received over 200,000 plays on terrestrial and internet radio. Skyrocket Love has been using internet tools to build a following and have been called "America's answer to U2 and Coldplay" by RockLinks.co.uk.
With the highly anticipated release of their 13 track self-titled debut album, the band—whose lineup includes lead guitarist Russell Nelson, bassist Curtis Corwin and drummer Jeff Maddox—is expanding beyond its roots at L.A. hotspots like Busby's East (Mile High Club) and Paladino's for a 20-plus date spring tour that will take them throughout California, up the West Coast to Portland and Seattle and to Boise, Las Vegas and Phoenix.
Seattle in particular holds a unique place in Bassett's life. After leaving his home in Tampa, Florida at age 13, the singer drifted for a time and ended up in the Emerald City, where he performed in his mid-teens on Broadway for money and helped out other street kids. During a particularly cold and lonely time, he made a promise to one of his peers who was encouraging him; Bassett vowed that he would someday overcome his present circumstances and pursue a professional career as a singer. Many years, life experiences and band situations later, he was living in L.A., where he met Iowa City native Merritt at a local pub. At the time, Merritt was auditioning singers to find a partner for a new band he was forming, and the two clicked instantly. They began writing songs and hired up and coming producer Mike Castonguay (Natural, Capra, Jake Coco) to helm their debut recording.
Though Jeremy and Merritt shared similar taste in music and the same ambition from the start, they each bring a unique set of early influences to the mix. Jeremy's include Queen, Elton John, Bon Jovi and Steven Tyler, while Merritt is into slower grooving rock like Radiohead, Bush, and Collective Soul. Jeremy's past musical ventures included being the lead singer in R&B and hard rock groups, but Skyrocket Love has a classic rock feel with some fresh new twists. Most of all, the band has quickly become the singer's ultimate outlet for sharing the deep emotional experiences of his life.
"I love to perform," Jeremy says, "and when I sing about something I care about, I want everyone to feel what I am feeling. It's the same as when you watch a movie and see the actors performing and you want to be part of what they are experiencing. Playing live is like an adrenaline rush that allows me to be who I really am even when the world wants to suppress it.
As a songwriter, it's exciting for me to write very personal songs with Merritt that allow listeners to get a look into my life. These tunes cover everything from depression to love to the broken life I led when I was younger. These are definitely my most personal songs ever and Skyrocket Love has been a great vehicle for opening me up to share things I wanted to sing about.
"I think because of all the moving around as a kid on my own," he adds, "I never really knew what was mine. I was always doing what people wanted or expected me to do. Music was an outlet to help me figure out who I am, and the different bands I was in previously helped me identify the musical center of that. This has all been such an incredible journey, and emerging through some of the harder times, I have become a very positive person who is happy to deliver an upbeat, inspiring message. From the start, Merritt believed in me as an artist and performer. What I love most is that Skyrocket Love is not about trends but honest emotions that come across in a high energy musical style that draws from both of our backgrounds. "
Merritt adds, "We took it one step at a time building it around strong songs and Jeremy's strong lead vocal. Everything was a stepping stone to the next by trying to to leverage one thing into another. First, we created a product we can show people with early demos so that people could hear. Then we rallied around our strongest points and strengths."
The powerhouse trio that Jeremy and Merritt assembled to round out Skyrocket Love's lineup perfectly reflects the duo's dedication to their original vision of what the band could be. Virginia native Jeff Maddox, who grew up influenced by everything from rock and pop to metal and R&B, perfected his drum skills at Musicians Institute in Hollywood and joined the band right out of school. Southern California born Curtis Corwin learned guitar at age 13 and switched to bass shortly after high school; while playing local gigs, he also worked with Grammy winning producer KC Porter in his studio. Hailing from Butte, Montana, guitarist Russ Nelson learned his instrument from his uncle John Montoya and also plays drums; he holds bodybuilding titles and state records in powerlifting in his home state.
The two tracks that Skyrocket Love is considering for promotion to various radio formats are the hard driving, harmonically soaring opening track "Novacaine" and the deeply felt power ballad "Goodnite." "Novacaine" is about a relationship that feels numb—there is no emotion left, so you must let go but still hold out hope that it can be mended. "Goodnight" touches on the heartache of saying goodbye to someone you love and care about. Jeremy says, "It sucks when you feel lonely, like you won't ever be able to breathe again." Other highlights include "Life Support" (debating whether you can live without something that is pulling you in); "Safe In My Dreams" (about building a world away from everyone else, but feeling broken and empty in the process); "Rushing Back" (about depression and feeling suicidal in the face of an overwhelming world); and "Save The World" (rethinking the positive changes that have taken place after meeting a special person in your life).
"People ask us how we came up with the name of the band," Jeremy says, "and 'Skyrocket Love' is actually the title of a song we wrote but ultimately chose not to put on our first album. Like all groups, we sat down trying to figure out a great name and this title kept popping up. We felt it was a great representation of who we are and what we are aiming to achieve with our music. We are aiming for the top and love everything we do along the way to reaching these goals."
Skyrocket Love Official Website: skyrocketlove.com
Related RSS Feeds
Recent Activity
At first i don'nt like it, but...after a while...it sounds great and very respectfull. Muy bacana, muy sollada.