Profile Images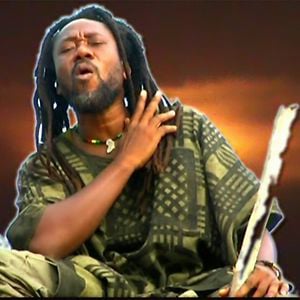 User Bio
SOL X-RAY, whose real name is EKLU-Natey E. Tétévi Salomon, was born on 5 December, 1967 in Lomé.
Son of a pastor musician pianist, composer and singing master and of a chorister mother in a Protestant church is from an early age, rocked by religious music and imbued with a philosophy of the love of his neighbor that he inherited from its parent.
He completed his elementary and high school in Togo and early combines studies and music, period in which he formed his first rock and blues performing band.
- His first great performance as songwriter was revealed and rewarded with the first prize for one of his own compositions, during 1984 national level singing and live performance competition involving schools and colleges.
- He actively took part to several traditional annual competitions opposing the best high schools bands at the former ''Palais des Congès'', at CCF ( French Cultural Institute), in different Community Social and Cultural Centers and at the Main Lomé Tokoin Sports Center with the formidable "X Rays" band of Gbényédzi High School.
- Still with the ''X-Rays'' Band, he was presented with the second prize in 1987 and First Prize in 1988 during contests annually organized by "ARTISTA 2000."
Got ready for the fray on the benches and in the student environment, follows the period of pubs, cabarets and cultural centers gigs with more and more evidences of Rastafari Culture and Philosophy performing the greats reggae and rock stars' repertoire and also his own songs.
- In 94 and 95 he initiated 3 live concerts with several High Schools at the former Holliday Hotel at Aného.
Meanwhile and at the same time he teached for six years Natural Science, Biology and Mathematics in several High Schools.
- In 97, he organized a song contest held at the Stadium in Lomé (Stade de Lomé Tokoin).
- In 1999 he formed The ''Natural Vibration'' his backing band with which he is performing up today. Then, started his reggae artist professional career.
- Year 2001, saw him giving many concerts on different stages in Togo.
In 2004 he gave up for good teaching to mainly devote himself to music the greatest of his reason for living and essentially reggae.
.
Some important dates:
- 1 st January 2013 : Give Dem A Smile – Live II
-31st December 2012 : Live à Hotel Safari – Agbodrafo
- 24th December 2012 : Give Dem A Smile - Live I
- 25th May 2012: Concert Conscience et Vérité – Institu Goethe de Lomé.
- 31st March 2012: Concert at Centre Culturel Dényigba.
- December 2011 : Give Dem A Smile Live.
-25th-31st December 2010: Live with "Music revelation" Band as guest - at Chez ALICE
-17th July 2010: live Goethe Institute - Lomé
- 6th June 2010: live Gbodjomé Beach
- 8th May 2010: live at CCF - LOME (plate-forme)
- December 2009 Café-concert festival at CCD
- September-October 2009 Live Reggae Nights at Consulat Night Club – LOME
- 24th June 2009 Music Festival (Fête de la Musique) at CCD
- 15th May 2009 Live at Devikémé
- 11th May 2008 CCF - Lomé (Tribute to Bob Marley and Brigadier Zimba)
- November / December – National Tour the togolese Rap Tycoon Eric MC – Togo
- 21st June 2008 Music Festival (Fête de la Musique) – Tokoin Cassablanca
- 26th May 2007at CCF- LOME
- 31st March 2007 at the Cultural Center-Notsè
- 21st June 2006 Music Festival (Fête de la Musique) at CCF -LOME with Tiken Jah Fakoly..
- 26th August 2005 at CCD
- 21st June 2005 Music Festival (Fête de la Musique) at CCF- LOME
- 11th May, 2004 Live at the Cultural Center Denyigba (CCD)
Discography:
- In 2006 he participated in a compilation of varieties produced by the Togolese Sariac Kpodzidzo with the title.
-Featuring 12 artists in 2007 with Togo for the song "Tribute to Brigadier Zimba"
Featuring-MC in 2007 with Eric for securities "Togovi and Stop Piracy"
-December 2009 release of her debut album "DEVOTION" with clips
"11 hawks, dedicated to Togolese football, and" KPODJIDJO "are present on national television.
- May 28, 2011: release of his second album titled: Avoulété
His lyrics, reggae background, encourage the awakening of consciousness to contribute to social and cultural development. It is in this spirit that the artist drew his large repertoire 2nd album titled Avoulété in May 2011. Acclaimed album to maturity by the Togolese and Beninese cultural press and it earned him his appointment in Togo Music Awards 2011.
With several collaborations with artists based abroad as Sun SOOLEY from Senegal and ling in Italy on the Afreeka project, based US artist from Dominica Aima MOSES and With Alex NYAMANFORCE from France Sol X-RAY explored other horizons.
His 2012 All Togo Music Awards nomination is just a formality.
Aspiring to conquer other markets...the Management is knocking doors for a real recognition of his talent and his job.
Related RSS Feeds