Steve Palmer
Joined

Location

East Coast USA
Profile Images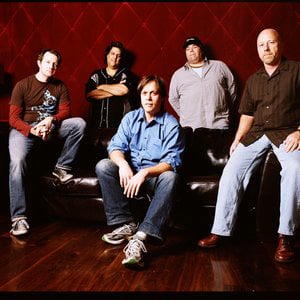 User Bio
After years of heartache and perseverance, the Steve Palmer Band finally trumpets its release of their debut CD "Apparition" on Arythmia Records. Highlighted by stellar musicians, original and inspiring music, piercing lead vocals, the music they offer is both "timeless and transcends genre". (Celebrity Café 2010). A ground breaking addition to the east coast rock scene, SPB carries on the proud tradition of winners like the Beatles, Led Zepplin and Chicago and they expands on contemporary trends such as Dave Matthews Band, Coldplay and Nirvana.
SPB's primary musical inspiration is found in the 1970s, which singer, songwriter, guitarist and bandleader Steve Palmer considers the golden age of rock music. He and his seasoned and skillful cohort of musicians meld that with the same knockout punch heard in contemporary heavyweights. The results are sure to delight aficionados of intelligent, big-hearted and hook-filled Top 40 popular music.
"Living On The Streets" and "Apparition" renew the rich widescreen pop-rock power of the 1970s for the modern zeitgeist. "Nothing To Do," which Palmer co-wrote in England during an economic downturn, speaks to today's hard times with enhanced resonance. And "Livin A Lie" rocks with an antagonistic edge mocking the powers that be that have "made" the writer into something he is not. And throughout the CD there is heartache and longing with a snappy soulful backbeat and gospel-inflected background vocals.
Palmer has gathered veteran players with a collective century of studio and concert experience into a genuine and committed band: lead guitarist and musical director Bryan Ewald, drummer Tony Morra, Hammond B-3 organist/pianist Larry Hall, and bassist Anthony Setola, now replaced by Josh Chapman. They recorded Apparition live off the floor with minimal overdubs at Nashville's Blackbird Studios, the ground zero recording facility for the city's rock community thanks to fellow habitués like Kings of Leon and Jack White. While the CD was recorded three times and mixed six times at Cue, Sterling, Drop Trou Productions and Blackbird, Palmer has finally coerced a dynamic and contemporary sound out of multiple tiers of engineers, musicians and studios.
"Music was always a big part of my life," says Palmer. "It says so much about people, their lives and their emotional experiences. And It always made me feel good even in tough times. I could always express myself and my observations through the prism of my creative mind. . . just like any good writer."
After committing himself full-time to music in 2002 and moving to Nashville in 2009, he has spent every waking hour battling fierce headwinds, writing, recording (in at least a dozen different studios), developing his band, growing a record company, and putting together a promotion, marketing and distribution team. Palmer currently resides outside Philadelphia where he grew up and attended Gladwyne Public Elementary School and where he played soccer, baseball and tennis as a kid until he moved to Connecticut.
In running Arythmia Records, Palmer mixes in street smarts he learned earning money working in yards, supermarkets and restaurants, bringing student groups together to promote appearances by Dick Gregory, Chick Corea and Gil Scott Heron, working with Alderman Danny Davis on Chicago's West Side and working for the disadvantaged in the Washington area.
Born in Denver, the SPB frontman entered his first studio at age 18. "I drew from the music I knew and loved as a kid. I grew up with bands like Steely Dan, The Stones, Peter Frampton and such legends as Bruce Springsteen, Elton John and Billy Joel. And I learned to write from solo artists like Joni Mitchell, Dan Fogelberg, Bob Dylan, Harry Chapin, James Taylor and Cat Stevens. And my biggest rhythmic influences were Yes, Led Zeppelin and Joan Armatrading, and all the great jazz artists like Stanley Turrentine, Miles Davis, Oscar Peterson, Herb Albert, Chuck Mangione and Weather Report."
Other touchstones included everyone from The Beatles to Crosby, Stills & Nash to Kansas, to country icons like Willie Nelson, Kenny Rodgers, Dolly Parton and Waylon Jennings, just to name a few. "The first few songs I sang were 'If I Were A Carpenter', 'I Saw The Light' and 'Cat's In The Cradle,' which also got me writing stories in the folk genre. This is one reason why I loved performing solo."
"From the moment I started buying Yamaha stereo equipment with the money I earned working after school, I could never stop thinking and dreaming in musical terms," explains Palmer. His first of many performances to come was in sixth grade. By junior year of high school he had made his initial solo quarter-inch reel- to-reel recordings, followed soon by studio sessions at age 18 in Plymouth, England and then Connecticut with first call New York musicians. His schooling and later work were "to keep one foot in the 'work world' and the other dreaming and writing," Palmer explains.
He moved on to record in top studios in the Chicago area, Indiana, Virginia, Maryland, Philadelphia and Nashville. "Unfortunately, no one wanted to help me – and a lot of people hurt me along the way - but I just kept on recording and writing because it was something I had to do," he explains.
In 2002, Palmer made it his 24/7 pursuit. In Nashville he found some dynamic and good-hearted players to unite behind a common purpose but he found a second group of great players and good people through his buddy Bryan Ewald. "Touring was so problematic for us that I needed a second group of players who could roll with the punches on the road . . . so to speak. So Bryan introduced me to Brandon Bartlett on drums and Josh Chapman on bass, both of whom I am tracking a follow up CD with right now. Bryan has done a lot for me – no question about it. He's a very giving person and a fantastic player."
The members of The Steve Palmer Band boast blue-ribbon live and recording experience with rockers like Bruce Springsteen, Mark Farner (Grand Funk Railroad), Pat DiNizio (Smithereens), Warren Zanes (Del Fuegos), Joe Grushecky (Iron City Houserockers) and renowned songwriter Diane Warren as well as such country staples Randy Travis, Little Big Town, Restless Heart, SheDaisy, Ronnie Milsap, Lari White and Ray Price.
The group recently filmed three concerts in Nashville at Mercy Lounge, Sound Check and 3rd aVenue South, as well as a live music video at Blackbird Studio for their debut CD's title track. Clearly in it for the long haul, SPB also embodies today's D.I.Y. indie music spirit by releasing and distributing Apparition on Palmer's own Arythmia Records. "I didn't want to do it this way but I had to. No one would help. So I am going to go it alone until I get to the public."
"We're trying to bring back the best elements of music, art and culture from the 60's and 70's for anyone who loves and is moved by music," explains Palmer. SPB embodies the era's skillful and impassioned musicianship and songwriting that draws from rock, country and R&B with unshakable pop ear appeal, and then injects it all with alternative rock relevance.
As SPB hits the road in 2011 and beyond to spread its sound to every corner of the globe, Palmer is thrilled to finally share the music he has envisioned. He spent 2010 playing in front of Bob Schneider, Sister Hazel and Blues Traveler among others.
"Getting this CD out to the public is my lifelong mission," he says. "I am very happy with it and thrilled to try to get our sound out there and finally play in front of people."