STONE project
Joined

Location

Edinburgh College of Art, Scotla
Profile Images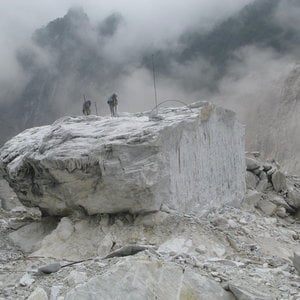 User Bio
STONE Project is a three year research programme based at Edinburgh College of Art, funded by the Arts and Humanities Research Council. These collection of videos are the culmination of a years international research travel collecting material on stone through the eyes of artists, masons, quarry workers, anthropologists, and cultural and literary thinkers.
STONE travelled to India, China, Japan, North America, Brazil, Mexico, Italy, Spain, France, Germany, Croatia, Austria, England, Ireland, and Scotland.
STONE project aims were:
- to discover differences in how stone is understood and worked throughout the world.
- to understand both the 'physical processes' and the 'thinking approaches' when working with stone.
- to show these modes of understanding in ways that are broadly applicable and transferable.
At the heart of STONE Project is the shared belief that research on stone can also contribute to a further understanding of:
- hands, tools and material -
What happens to the human body and human mind when tools are used?
In what ways is the creative mind stimulated when working process are engaged?
- tactility/senses -
What is the role of our senses in working with and confronting stone?
How do we pay attention to this in a world that is radically reordering the place of touch?
- tacit skills -
Why, even though they are grounded in action and material experience, is the awareness of important human functions left unarticulated?
What happens in the world of the unstated?
- subtractive/ reductive thinking -
How do we distinguish what happens when meaning grows through taking material away?
How might we protect this specific way of thinking?
These videos are only a small fraction of the hours of footage shot and, of course, mark only the beginnings of a research project based on the timeless material of stone. The project ends March 2011.
Related RSS Feeds