Anne Elizabeth Moore
Joined
Profile Images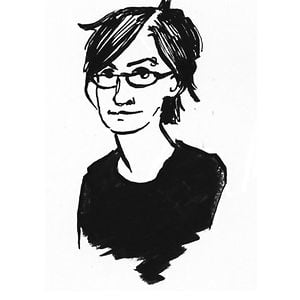 User Bio
Anne Elizabeth Moore is a Fulbright scholar, the Truthout columnist behind Ladydrawers: Gender and Comics in the US, and the author of Cambodian Grrrl: Self-Publishing in Phnom Penh (Cantankerous Titles, 2011), Unmarketable: Brandalism, Copyfighting, Mocketing, and the Erosion of Integrity (The New Press, 2007, named a Best Book of the Year by Mother Jones) and Hey Kidz, Buy This Book (Soft Skull, 2004). Co-editor and publisher of the now-defunct Punk Planet, and founding editor of the Best American Comics series from Houghton Mifflin, Moore teaches in the Visual Critical Studies and Art History departments at the School of the Art Institute of Chicago.
She works with young women in Cambodia on independent media projects, and with people of all ages and genders on media and gender justice work in the US. Her journalism focuses on the international garment trade. Moore exhibits her work frequently as conceptual art, and has been the subject of two documentary films. She has lectured around the world on independent media, globalization, and women's labor issues.
The multi-award-winning author has also written for N+1, Good, Snap Judgment, Bitch, the Progressive, The Onion, Feministing, The Stranger, In These Times, The Boston Phoenix, and Tin House. She has twice been noted in the Best American Non-Required Reading series. She has appeared on CNN, WNUR, WFMU, WBEZ, Voice of America, and others. Her work with young women in Southeast Asia has been featured in USA Today, Phnom Penh Post, Entertainment Weekly, Time Out Chicago, Make/Shift, Today's Chicago Woman, Windy City Times, and Print Magazine, and on GritTV, Radio Australia, and NPR's Worldview.
Her good friend and one of her favorite authors Elizabeth Crane wrote a short story about her that was widely reviewed, and thus the Village Voice once called Moore a "Possibly perfect protagonist." Washington City Paper mused she must be "A woman who has always been comfortable in her own skin," and Hipster Book Club called her "A perfect altruistic punk-rock super-heroine."
Moore recently mounted a solo exhibition at the Museum of Contemporary Art in Chicago and participated in Artisterium, Georgia's annual art invitational. Her upcoming book, Hip Hop Apsara: Ghosts Past and Present (Green Lantern Press, Aug. 28, 2012), is a lyrical essay in pictures and words exploring the people of Cambodia's most rampant economic development in at least 1,200 years.
She is currently based in Chicago and likes cats and pie.
Related RSS Feeds
Recent Activity