Alexander Syutkin
Joined

Location

Ukraine, Lvov
Profile Images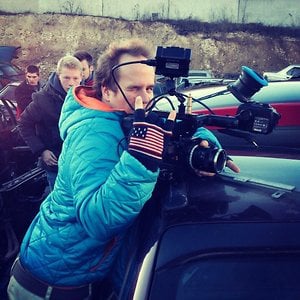 User Bio
Our producer – Alexander Syutkin, who is also our operator, is the 3rd in the dynasty of producer-operators, even his grandfather-operator used to shoot world-renowned movies. Alexander chose the way to connect his life with art, since he was a 12-year-old boy he has always been with the camera. Graduating from the Hollywood Film Institute USA as a feature film producer he is a highly-qualified specialist in the sphere of film industry.
His name is included on the list of those 5 people in the CIS who have the license to shoot using a Panavision camera. By this moment he has made more than 1500 projects .
All equipment in our company is our own which significantly affects the price range. In addition to this it has a number of nano technological inventions made by Alexander and his team for the purpose of uniqueness. All these points make his work truly unique and marvelous.
Constant visits and training in America give Alexander a lot of new skills and knowledge.
He has got the most expensive and advanced cameras and optics such as:
1)Camera Sony F65 (55) is a legendary camera with powerful image sensor writing 8k as IMAX.
The movie «Avatar 2», «The Bag Man», «After Earth», «Oblivion», «The Smurfs 2» was shot using the exact camera.
2) Phantom Flex. It shoots 10 000 frames / sec.
Besides his movie company, Alexander is a USA operator of such TV channels as Discovery and Animal planet.
Режиссер, он же Оператор, являюсь третьим в династии режиссер операторов, еще его дедушка оператор снимал фильмы мирового масштаба. Александр пошел тем же путем, связав свою жизнь с искусством, начиная еще с 12 лет он постоянно с камерой, он является высококвалифицированным специалистом в этой области, закончил «Голливудскую школу высшего "Режиссерского Операторского мастерства" в США.
А.Сюткин режиссер один из пяти человек в СНГ, кто имеет лицензию на съемки камерой "Панавижен". На его счету на данный момент более 1500 проектов, в которых он был задействован и более 11 000 часов с камерой.
Техника которую он использует не арендуется а является его собственной. В ней есть ряд нано технологических изобретений сделанных самим Александром и его командой с целью уникальности, многие из его изобретений такие как например героскопическая голова на беспилотник запатентованы и их обладателем является только А. Сюткин. Это делает по истине уникальной и неповторимой каждую его работу. Постоянные выезды и повышение квалификации в Америке, дают Александру большое количество новых умений и знаний.
Самое приятное то что в его руках самые дорогие и современные камеры и оптика:
1 камера это Фантом флекс пишущая до 10 000 кадров в секунду
2 Вторая камера сони ф 65 пишущая качество Аймакс. На нее сейчас снимают новый аватар и сняли уже : imdb.com/list/hPGxeEKmY2Y/
Оптика Арри Мастерпрайм.
Александр Сюткин работал со многими звездами эстрады, и кино.
Кроме своей кинокомпании он Состоит в штате
Тв. Каналов:
Discovery и Animal planet.
Related RSS Feeds