Tallulah Goodtimes
Joined
Profile Images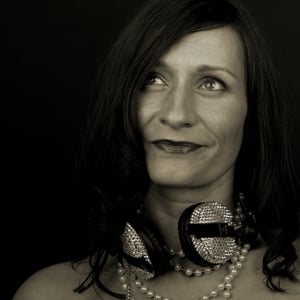 User Bio
DJ Tallulah Goodtimes takes the sounds of the 1920s-50s and remixes and re-imagines them live. With nearly half a million plays on Soundcloud, she is undoubtedly the UK's Queen of Electro Swing.
Expect to hear live mashups of house, breaks, and drum and bass with swing classics such as Putting on the Ritz, Hit the Road Jack, Don't Mean a Thing, I Wanna Be Like You in a Tallulah set, alongside the sound of electroswing in it's truest form from artists such as Mr Scruff, Parov Stelar, Caravan Palace, Caro Emerald, Bart & Baker, and Tallulah Goodtimes.
Whether a more downtempo swing style set for a daytime event to a dancefloor friendly four to the floor affair at a late night party, festival or wedding, Tallulah plays with precision and flair to engage and delight her audiences.
The Goodtimes Republic brings an exciting combination of DJ performance and live musicians to the stage of your event, with a truly modern take on music of a bygone era.
Whether you'd like sax, flute, clarinet, gypsy jazz guitar, trumpet or percussion, or a combination to add to the DJ set, together Tallulah and her friends perform a fun and uplifting set of electroswing and vintage remix to get toes tapping and bodies moving.
All at the top of their game, expect nothing but the best in both performance and professionalism.
These magical combinations offer the flexibility of 30 minute, 45 minute and hour-long sets and up to 3 hours of continuous entertainment.
From festivals to corporate events, and weddings, and dressed in vintage finery, The Goodtimes Republic brings an uplifting party vibe that looks fantastic. Book them, and you'll be sure to have some goodtimes with Tallulah!
MEDIA
Tallulah Promo:
Video: youtube.com/watch?v=gT6F60fWfmw
Featuring Dan Friend on trumpet.
Tallulah's most popular mix of classic electroswing: soundcloud.com/tallulahgoodtimes/swangyothang2
Tallulah & Toots live jam (Sarah – this name needs tbc with Chez ☺)
Audio: soundcloud.com/tallulahgoodtimes/happyreprise-tallulahandtoots
Tallulah & The Dynamite
An explosive collision of gypsy jazz, electroswing, beats n bass.
Audio: soundcloud.com/tallulahgoodtimes/tallulahandthedynamitezipzip
Related RSS Feeds
Tallulah Goodtimes does not have any videos yet.