Tanz im August
Joined

Location

Berlin, Germany
Profile Images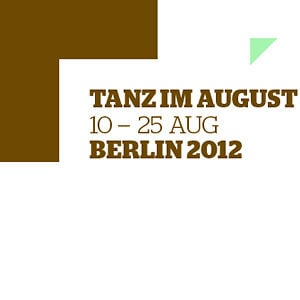 User Bio
Veranstalter:
tanzwerkstatt-berlin.de
hebbel-am-ufer.de
kulturprojekte-berlin.de
Förderer:
hauptstadtkulturfonds.berlin.de
TANZ IM AUGUST ist das größte jährlich stattfindende Festival für zeitgenössischen Tanz und Performance in Deutschland. Es wurde 1989 gegründet und präsentiert in jedem Sommer über zweieinhalb Wochen an zehn Berliner Spielorten etwa 20 – 25 internationale Produktionen unterschiedlichen Formats – von weltweit erfolgreichen Compagnien bis hin zu Nachwuchs und Neuentdeckungen der internationalen Szene. Fortbildungsangebote, thematisch bestimmte Diskussionsreihen, Künstlergespräche und die sommer.bar im Podewil mit Beiträgen der Festivalkünstler, Massage-Angeboten und Restaurant machen Tanz im August zu einem Treffpunkt für Künstler, Gäste, Veranstalter, Presse und Publikum.
Tanz im August ist eine gemeinsame Veranstaltung von Kulturprojekte Berlin / TanzWerkstatt Berlin und Hebbel am Ufer, gefördert durch den Regierenden Bürgermeister von Berlin, Senatskanzlei, sowie aus Mitteln des Hauptstadtkulturfonds.
Tanz im August 2012 wird vom 10.-25. August 2012 stattfinden.
TANZ IM AUGUST Founded in 1989, Tanz im August is the largest annual festival for contemporary dance and performance in Germany. Over a period of two-and-a-half weeks, it presents between 20 and 25 international productions of varying formats in 10 venues in Berlin, ranging from the latest pieces of world-renowned companies to performances by budding stars of the international scene as well as experimental work from young artists. With an accompanying program including workshops, discussions on current artistic topics, talks with artists and the sommer.bar at the Podewil – where guests can have a bite to eat, enjoy entertainment contributed by festival artists or unwind with a relaxing massage –Tanz im August offers plenty of opportunities for artists, guests, organizers, the press and the public to meet and mingle.
Organized by Kulturprojekte/TanzWerkstatt Berlin and Hebbel am Ufer, supported by the Governing Mayor of Berlin - the Senate Chancellery and the Capital Cultural Fund (HKF).
Tanz im August 2012 will take place from August 10th till 25th.
Related RSS Feeds