Profile Images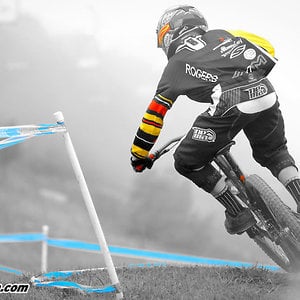 User Bio
Joshua is 15 years old and has completed his 2nd year of racing mountain bikes on downhill and dual slalom courses. You can always find him on one his bikes ripping around the local trails or the neighborhood. He prefers to be on the side of a mountain shredding on his new 2013 Specialized Demo 8.
His first season goal was to learn as much about the new sport as he could while developing his riding technique and skills. Joshua trained hard during the week to prepare himself for the physical demands of the sport. His hard work has paid off with a number of first season podium appearances.
Joshua raced for GROM Racing during the 2013 season. Even though his season had two major injuries he had a strong year in the CAT 1 Class. Joshua won the NC State DH Championship and Beech Mountain Monster Energy Series titles. He placed 2nd in the Snowshoe DH Series missing a race due to injuries.
With the 2014 season quickly approaching Joshua is training hard; weight training, road biking, cross country riding, endurance races and mental visualization. The 2014 season will bring new demands and expectations. Looking forward to hitting up Sea Otter, Snowshoe, Beech, GES and Eastern States Cup races.
Related RSS Feeds