The Gyronauts
Joined

Location

Austin!
Profile Images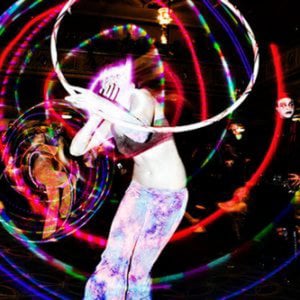 User Bio
Formerly known as the "Unofficial NYU Hoop Troupe," The Gyronauts have settled on a name and are here to stay!
Made up of incredible, shimmering, quite honestly ridiculously talented NYU graduates/silver gods and goddesses.
We are:
Sean (formely Sean Stogner)
Tash (formerly Tash Kouri)
Astroboy (formely Daniel Darwin)
Freebird (formely Sarah Freeman)
Chazam (formerly Anna Chazelle)
Justina Flash (formally Megan Heckard)
Aura (formerly Aura Cleveland)
Misty (formerly Misty Smith)
Kyttn (formerly Kat Holmans)
Eli (formerly Elijah Parker)
The Gyronauts have performed at parades (NYC Dance Parade, Mermaid Parade, Halloween Parade...), at rock concerts (The Dresden Dolls, The Frontier brothers, Julius C...) at festivals, fundraisers, birthday parties, and of course in and around the streets, parks, rooftops of New York City and Austin.
The Gyronauts have royalty in their midst.
Tash is Miss Hoop NYC 2007.
This year, Justina Flash and The Gyronauts were hooping.org's Hoopie finalists for Outstanding Hoop Newbie (2009) and Performance Group of the Year(2009, 2010).
Besides performing, the Gyronauts teach hooping to people of all skill levels, ages, and body types!
The Gyronauts also make hoops to sell! You can have your very own colorful sparkly shiny gyrotastic hoop! Prices for hoops range from $20 (used) to $45 (intensely designed glow in the dark all with all the trimmings). Email Tash at thegyronauts@gmail.com for more information. As of now we just deliver hoops to people in the Austin area, but maybe you can be a special special case!
Also check out the blog and keep up to date with the Gyro News:
thegyronauts.blogspot.com
Get on the Gyronaut ball, it's the best ride of your life.
Related RSS Feeds