The Restoration
Plus
Joined

Location

Lexington / Columbia, SC
Profile Images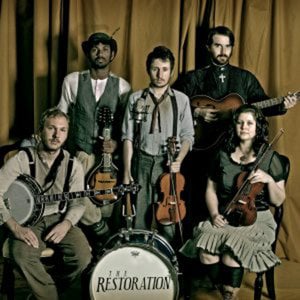 User Bio
Using banjos, violins, pianos, organs, and storytelling, The Restoration's "Faulknerian chamber-pop" presents a conflicted view of the South, evoking lush rural beauty stained by prejudice and blood. The press has hailed the band as "indelibly likable indie pop with a strong literary bent".
The Restoration consists of five Dixie-grown troubadours who grew up performing in orchestras, picking bluegrass and playing in rock and roll bands. United in 2008, The Restoration have put their musical tutelage to work, channeling rock energy and indie-pop sensibilities through banjos, violins, pianos, organs and layered percussion. The Restoration cherish music history and aspire to help in its preservation by bridging contemporary songcraft with the rich, vintage offerings of classical orchestra, bluegrass, church hymnals, big band, jazz, and early country - sounds that are too often overlooked and ignored by many modern listeners. Beyond preserving musical roots, The Restoration have attempted to capture the multifaceted South as they experienced it - the real South, for better and worse.
Lyrically, The Restoration's music abides in the realm of Southern historical fiction. Through this lens, the band presents a conflicted view of the South, as sexism, artistic obscurity, sexual repression, misused religion and racism are pitted against family ties, romantic love, spirituality and a deep connection to nature and the land. Set between the late 1800s and 1940s in Lexington, South Carolina, the collective narrative of The Restoration's repertoire focus on songwriter Daniel Machado's fictional Vale family. Machado's protagonist, Constance Vale, comes of age in the post-Civil War South, marries a man of mixed heritage, and, ultimately widowed and estranged from a prejudiced community, must face alone the consequences of her only son's nihilistic vengeance, as the South and the rest of the world plunge into the Great Depression.
One could call The Restoration "orchestral indie-pop with bluegrass instruments", or "Southern Baroque-pop", or even "Faulknerian chamber-pop". Whichever - come out to a show, it's a guaranteed humdinger.
Related RSS Feeds