The Wall Project
Joined

Location

Moscow, Winzavod
Profile Images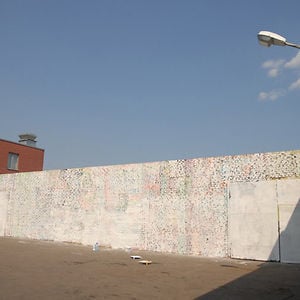 User Bio
Проект «Стена» начал свое существование на «Арт-Стрелке» в 2009 г. в качестве открытой выставочной площадки, функционирующей в формате граффити и стрит-арта. Его изначальная концепция, разработанная участниками группы «310» Степаном Красновым и Андреем Целуйко, подразумевала симуляцию так называемых «hall of fame» — нелегальных зон временной автономии уличных художников. Привязанные к безлюдным и неофициальным пространствам города, эти зоны нередко оказываются доступными только для «посвященных». Не включенные в граффити-культуру люди часто даже не подозревают о существовании пространств, и могут узнать о них только случайно, в процессе хаотичного фланирования по городу...
Перенесенный на «Винзавод», проект расширяет свои изначальные интенции — стоя вдалеке от первопроходцев граффити-музеефикации и учитывая тот факт, что деятельность ЦСИ началась с граффити-фестиваля, он предлагает подискутировать на тему самой возможности существования подобных проектов на территории официальных институций.
«Стена» претендует на нечто большее, чем статус открытой выставочной площадки. Это своего рода открытый дискуссионный клуб, актуализирующий внутреннюю и внешнюю проблематику граффити культуры. Помимо демонстрации отдельной работы/художника/тренда, каждая новая экспозиция должна становиться предметным рассуждением, нарративом, отсылающим к конкретным культурным процессам и практикам стрит-арта, к дискурсу об уличном искусстве вообще.
|
The Wall project first appeared in 2009 in Art-Strelka cultural centre as an open exhibition ground, where works representing genres of graffiti and street art were displayed. The initial concept of the project worked out by Stepan Krasnov and Andrey Tseluyko (who are members of 310 group) implied the imitation of the so-called halls of fame (these are the illegal zones street artists may work in). Such areas, being empty and away from crowded streets, are often visited only by the insiders. Those unfamiliar with graffiti culture may have not even a vague idea of these special territories and come across them only when roaming along the streets...
The project was transferred to the territory of a Moscow Centre for Contemporary Art "Winzavod", and this gave an opportunity to increase the number of the project's goals. Staying away from pioneers of graffiti museumification and considering Contemporary Art Center started with a graffiti festival, the project offers an opportunity to discuss whether such projects may generally exist in official surroundings since any appropriation of graffiti seems to be a stillborn idea.
Related RSS Feeds