This Is Just To Say
Plus
Joined

Location

BCN / BA / Montevideo / Rosario
Profile Images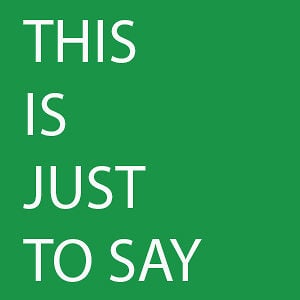 User Bio
(English version below)
This is Just to Say es un intercambio semanal de videos entre dos artistas, un peculiar diálogo audiovisual compuesto de postales, cartas, confesiones, retratos, autorretratos, paisajes, pasajes autobiográficos, registros caseros, delicadas puestas en escena, imprevistos testimonios, grabaciones espontáneas, pequeñas acciones perfomáticas y bellas imágenes inútiles, que se articularán en el pulso de un íntimo diario personal narrado a un amigo.

La primera edición de This is Just to Say se desarrolló a lo largo del año 2012 y dejó, como resultado de la correspondencia entre Gustavo Caprín -desde Barcelona- y Andrés Denegrí -desde Buenos Aires- un cuerpo de 59 videos.

En 2014 la propuesta se retoma con la idea de ampliar el juego. Durante este año serán dos las parejas que intercambiarán sus vivencias cotidianas. Una compuesta por Gustavo Caprín -quien continua residiendo en Barcelona- y Gustavo Galuppo -que vive en Rosario. La otra está conformada por Andrés Denegri -insistente ciudadano de Buenos Aires- y Javier Olivera –que ha decidido migrar nuevamente, esta vez a Montevideo.

Estos cuatro artistas, camaradas a la distancia, producirán durante este año más de cien videos que se sumarán a los de la primera edición de This is Just to Say. Se formará así un caudaloso acervo de obras audiovisuales que, más allá de Internet, hallará diferentes diseños para encontrarse con el público tanto en salas, montados como instalación, o en auditorios, como programa monocanal.
-----------------------------------------------------
This is Just to Say is a weekly exchange of videos between two artists, a distinctive audiovisual conversation made out of postcards, letters, confessions, portraits, self-portraits, landscapes, autobiographical texts, home movies, precise mise-en-scenes, unexpected testimonies, spontaneous recordings, humble performances and beautiful useless images that are articulated with the pulse of an intimate dairy as narrated to a friend.

The first edition of This is Just to Say took place along 2012 and left –as the result of the interchange between Gustavo Caprín (Barcelona) and Andrés Denegrí (Buenos Aires)- a body of work of about 59 videos.
In 2014 the bet is raised in order to expand the project. Along this year there will be two couples who will exchange their daily experiences: one conformed by Gustavo Caprín (who still lives in Barcelona) and Gustavo Galuppo (who lives in Rosario, Argentina). The other couple are Andrés Denegri (insistent citizen of Buenos Aires) and Javier Olivera (who migrated once again, this time to Montevideo, Uruguay).
These four artists, comrades in the distance, will produce along the year more than 100 videos that will sum up the ones belonging to the first edition of This is Just to Say. There will be then a vast array of audiovisual works that apart from Internet, will find varied setups in order to meet audiences, either mounted as video installations in museums or single-channel projections for festivals and auditoriums.
Related RSS Feeds