Be Nice
Joined

Location

New York City
Profile Images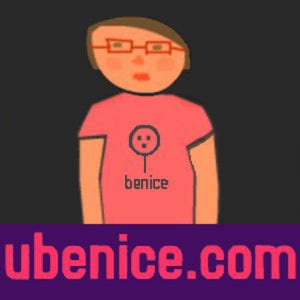 User Bio
Be Nice is a super fresh company headquartered in Manhattan that offers original, organic, sexy, soft, handmade shirts.
Be Nice organic cotton shirts are printed using water-based eco-friendly inks (301 ECO-Series by Matsui), free of PVC, phthalate, heavy metals, azo compounds, nonylphenol and formaldehyde. We clean up after oursleves using mostly water. When necessary, we may use a citrus and soy based eco-cleaner from Chemical Consultants Incorporated. The 100% organic cotton t-shirts come from Alternative Apparel.
Be Nice offices have been wind powered since October 2009. (Get your own wind power here). ***We have recently moved (6/2010) the Be Nice hub to a new location on 1st Avenue and are looking into getting wind powered energy again.
Ubenice.com is hosted by DreamHost, a carbon neutral company.
Be Nice's fliers are handmade from recycled envelopes (mostly junk mail envelopes) and handmade paper. We strive to consume fair trade, vegan, organic and local products, recycle my waste and constantly reduce our energy consumption.
Enjoy Be Nice shirts! You know everyone loves an original, organic screen printed shirt handmade with love. :]
Cara Reynolds
Executive Director of Be Nice
Related RSS Feeds