Una Fiesta Sin Final
Joined

Location

Santiago, Chile
Profile Images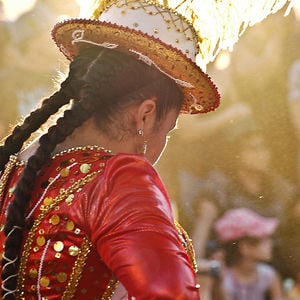 User Bio
En un silencio espectral se oye el canto a capela de un hombre. De tenor religioso y melódico la letra acompaña a la cámara mientras se incrusta en rostros compungidos, velas incandescentes y llantos de hombres. Se observa una vigilia con miles de personas. No sabemos de qué se trata, pero parece ser algo importante.
La voz de una niña atrapa y dice: "Me preguntaron si yo quería ser ángel… y respondí que si". Claudia nos conduce al hito uno de este documental, el día en que por primera vez ella ensayará en la Primera Diablada de Chile para convertirse en su ángel y danzarle a la Virgen el 16 de julio en la Fiesta de la Tirana. Pero aún le quedan meses de preparación y esfuerzo. Será puesta a prueba.
Junto a Claudia, Oscar Figueroa, matrón del Hospital de Iquique y Don Tito, anciano y ex militar de 88 años, se cruzarán en el camino con ella. Tienen mucho más en común de lo que sus realidades sociales los separan.
In a spectral silence, the singing of a man to Cepella is heard . Of religious and melodic tenor the lyrics accompanies to the cámara while it lodges in remorseful faces, incandescent candles and men's weepings. A vigil is observed by thousands of persons. We don´t know about what is , but it seem to be something important.
The voice of a girl catches and says: " They asked me if I wanted to be an Angel ( El ángel)… and I said yes ". Claudia leads us to the Milestone number one of this documentary ; the day in which she will rehearse for the fisrt time in the Primera Diablada de Chile to become in their Angel and dancing to the Virgin on the July 16th in La Fiesta de la Tirana. But months of preparation and effort still remains for her . She will be put to the test.
Together with Claudia , Oscar Figueroa, matron of the Hospital of Iquique and Don Tito, an elder and 88-year-old ex-military man, they will cross in the way with her. They have much more in common than his social realities separate them.
Related RSS Feeds