Urban Yoga TV
Joined

Location

Saratoga Springs, NY
Profile Images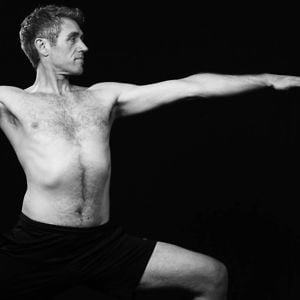 User Bio
Mark T. Kinder is the co-owner of Urban Yoga in Saratoga Springs NY. He is a yogi, an adventurer, a philosopher, and a visionary. He has over 3,500 free fall skydives, served in the U.S. military, he rode his bicycle from Seattle to Florida in 1998, has climbed an 18,500ft mountain in the Himalayas, and he considers the craziest thing he's ever done was to ride a motorcycle the length of India, with his wife on the back - which he says is not a good idea:-))
Mark grew up in the industrial North of England and started his adult life as a hydraulics engineer. After serving an apprenticeship in engineering and working in several dead end jobs, he relocated to the United States in 1994, to pursue a career in professional skydiving. In 1996, some of Mark's skydiving friends introduced Mark to yoga and he started to practice diligently from then on. Mark then threw himself in at the deep end and made yoga a part of his life. Since that time, has spent 7-months in India and has studied with many authentic, reputable yoga masters, most notably Sri Gary Olsen of Master Path.
Mark has extensive experience and has studied with many different teachers. Here's just a few:
1996 - 1998: Attended weekly and bi-weekly Satsang with Ma Jaya Sati Bhagavati at Kashi Ashram in Florida
Jan 1998: One month intensive at the Sivananda Yoga Ashram Ranch in Upstate, NY with Swami Padma and Sri Navasa
Oct 1999: 200 Hour Teacher Training at It's Yoga, San Francisco with Larry Schultz (the Grateful Dead's yoga teacher)
Apr 2000: Four day beginners course in TM Transcendental Meditation
Jun 2000: 100 hours of training in asana and pranayama, with B.N.S. Iyengar (a student of T. Krishnamacharia) of Mysore, India
2002 - 2004: Bi weekly attendance, 2 years +, at Albany Hare Krishna study group and Satsang with Rasanatha Dasa and associates
March 2003: 45 hours of Ashtanga practice with Ajay Kumar in Mysore, India (a student of B.N.S. Iyengar)
June 2003: One week 20-hour intensive in Iyengar Yoga in Dharmasala, India
July/August 2003: 400 hours of study and practice with Yogi Yogendra of Rishikesh, India,
Sept 2003: 60 hours of the real Kundalini Hatha Yoga, and training in mudras with B.N.S. Iyengar (not Yogi Bahjans version)
Sept 2003: 45 hours of Ashtanga practice with Ajay kumar in Mysore
2004 - present: Took initiation into esoteric teachings of Surat Shabda Yoga (the oldest known form of yoga), and continued study for over 8-years, as taught by Sri Gary Olsen of MasterPath
Dec 2010: 80 hours of advanced yoga teacher training with Tony Sanchez in the classic 84 asanas of hatha yoga
In addition, Mark has attained a high level of Siddha consciousness in his meditation, he can consciously slow his own hear beat, manually create heat in his body while sitting, self-induce a near death experience in meditation and go into a deep samadhi trance at will, he can enter salvikalpa samadhi just while standing around talking to others, and can do powerful healing with his hands, has some level of clairvoyance, and can channel the divine spirit into others through transmutation of power through the eyes. Although, he rarely talks about, performs, or demonstrates any of these abilities, Mark is very enthusiastic in showing others how to tap into their own power, so they can experience their true dormant spiritual potential. Mark rarely demonstrates this publicly, but once when taking a Military medical exam, he consciously slowed down his heart beat, within a 2-min time frame, to less than 35 beats per minute and to the amusement and surprise of military doctors. This is on record! However, Mark feels that all people have this potential lying dormant within, but few know how to tap into it. He will happily show you how, but through your own inner work. Mark strongly advocates that you are responsible for your own reality, therefore, you must be the undoer of the false reality that you have created through practice, diligence, and serious inner reflection.
Mark teaches a blend of techniques influenced by the teachings of the Natha Yogi - Gorakshanatha (the most important hatha yogi). His favorite yoga practice is the 84 Asanas of Classical Hatha Yoga, as taught by Tony Sanchez; his favorite food is a special fruit smoothy created by Paul Bragg; his favorite spiritual teacher is Gary Olsen of MasterPath; his favorite asana teacher is Tony Sanchez; his good friend and yoga master, Yogi Yogendra is his favorite yoga teacher and knowledge bank; his favorite readings are anything on Surat Shabda Yoga in the line of Kabir, Nanak, Sawan Singh, Kirpal Singh, Faqir Chand, and Sri Gary Olsen; he also likes to walk, ride his bicycle, and says he has a strange addiction to making websites and really likes those HUUUUGE Chipotle veggie burritos, much to the dismay of his wife:-))
Related RSS Feeds