Graham Potter
Joined

Location

U.K
Profile Images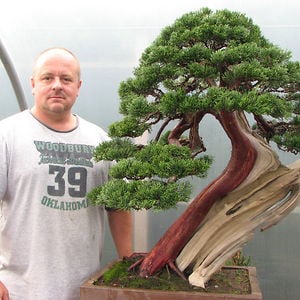 User Bio
I first discovered bonsai around 1990. Prior to that I had been building custom cars and tearing around on very large motorcycles. Then with a new child and a large mortgage I found my circumstances severely straitened and the fast cars had to go. In my search for something to occupy my time I discovered bonsai trees.
For the first few years I stumbled around in the dark not really getting to grips with my frustrating new pastime. Around 1999 I met Kevin Willson who put me on track and filled in the gaps for me. After that bonsai became the reason for getting up in the morning.
By 2004 bonsai had become my entire life and in that year we acquired the business started by Colin Lewis in the early nineties, Bonsai Mart.
Over the last twenty or so years I have sought to develop bonsai that show the unique character of natural trees and their struggle against adversity. Bonsai is all about distilling out the essence of a natural tree and sometimes that produces a very stylized image, other times a tree better expresses itself in a very natural form.
In 2009 I begun to make short movies to show the process of beginning the journey of a tree to becoming bonsai. This process takes decades and so a 10 minute movie is very limiting. However the aim is to encourage folk to get out and have a go at creating their own bonsai trees.
Bonsai is a very peculiar craft and certainly in terms of what we each like and dislike there is no right or wrong. Styling bonsai is a very personal thing. However that's no excuse for poor quality workmanship and in the course of my videos I do hope to pass on exactly how various tasks are performed.
Over the coming years I do hope to be able to build a thorough in depth archive of bonsai technique in an informative and entertaining format.
Thanks to everyone who sends me messages of support, subscribers and invitations to become friends. Sadly due to the immense pressure on my time and the number of enquiries raised here and from our own web site it's just not possible to reply to everyone. However if you send me a message about what you would like to see in future programs I will try to incorporate your ideas along the line.
I am always happy to receive feedback regarding our content but if you feel the need to give me a good spannering please keep your opinions to yourself. There is room for every conceivable approach and idea in bonsai and accepting the experience and views of others is an important step in learning to create good bonsai trees.
So thanks for making our You Tube project such a success this year. Hopefully we can spend many more years sharing our bonsai experience together.
Graham Potter
kaizenbonsai.com