Alan McIntyre Smith
Plus
Joined

Location

New York City
Profile Images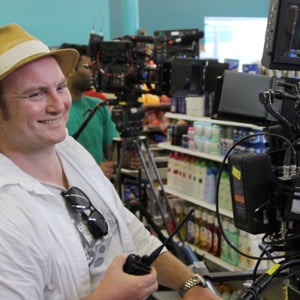 User Bio
Alan McIntyre Smith is a New York based cinematographer, director, and producer. His most recent feature film, All Mistakes Buried, received a 10-city theatrical release in January 2016 and stars Sam Trammell (HBO's True Blood) and Vanessa Ferlito (Graceland). The Village Voice wrote: "Cinematographer Alan McIntyre Smith shoots steamy Alexandria, Louisiana, in vivid colors as saturated as Trammell's sweat-soaked T-shirt, which adds to the intoxicating feeling of being immersed in Sonny's fractured psyche." The Hollywood Reporter mentions the film's "seedy, sweaty atmosphere aided by Smith's expertly hazy cinematography," and Film Journal International concludes "the movie is shot so beautifully it seems to elevate the story to a level of celestial significance."
Another recent feature, White Rabbit, won Best Cinematography at the Chelsea Film Festival in 2014, won Best Film at the Catalina Film Festival, had a theatrical release in February 2015 and is currently available on Netflix. The film stars Brit Robertson (Tomorrowland ), Sam Trammell, Nick Krause (The Descendants), and Ryan Lee (This Is 40). The New York Times review cited "thickly atmospheric photography", and noted the cinematographer as "one of the director's factor's in his favor, working overtime at conveying a woozy beauty." The Hollywood Reporter also mentioned White Rabbit's "impressive cinematography."
The music videos Smith has directed and photographed have appeared on MTV and garnered millions of views on online platforms, including Jordan JAE's Hopping Fences and The Ready Set's Love Like Woe. According to the AXS.com review of Jordan JAE's, Makin' Me Crazy, "[the video] radiates a refreshingly wholesome vibe that can honestly change your mood."

Smith currently shoots several TV shows, including History Channel's "What History Forgot," Investigation Discovery's "My Dirty Little Secret," TLC's "Four Weddings" and HGTV's "House Hunters International." Smith has served as camera operator on several Food Network shows such as "Road Tasted" and "Road Tasted with the Neely's." He has also served as chief lighting technician for the Oscar winning film Taxi to the Dark Side and Oscar-nominated Enron: The Smartest Guys in the Room, as well as the Sundance hit The Station Agent.
Smith has taught cinematography for over a decade at Purchase College, State University of New York and at the Rutgers Center for Digital Filmmaking. Smith studied filmmaking with the Oscar-nominated/Sundance winner Jill Godmilow at the University of Notre Dame.
His work can be seen at alansmithfilm.com.
Related RSS Feeds
Recent Activity