Elena Tejada-Herrera
Plus
Joined
Profile Images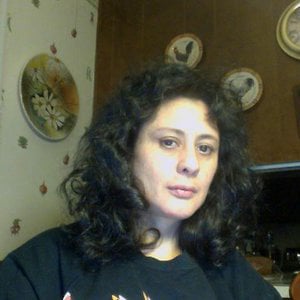 User Bio
elenapublicart@gmail.com
Elena obtained an MFA degree at SAIC last December of 2013.
Before she had studied painting at Virginia Commonwealth University and at the Catholic University of Peru.
SOLO EXHIBITIONS:
2009 Animated Spaces, Peruvian National Library Gallery, and Muro de Carne gallery.
2008 "About You", Dean Project, NY.
2006 Nouveau Bourgeois Latin Immigrant That Learned Shopping And Has Good Taste, and New Accents of Color, Performances Union Square, NY. Burping Wonderwoman, Chinatown, NY.
2005 Nouveau Bourgeois Latin Immigrant That Learned Shopping And Has Good Taste, and Accents of Color. Street Performances at Pottery Factory Mall, at Outlet Mall and on Richmond Road; at Old Dominion University and at Norfolk State University, Virginia, USA.
Live Cinema, solo exhibition, Glover Gallery, Old Dominion University, Virginia.
2000 Cite Internationale Des Arts Art Gallery, Paris, France.
First lbero American Art Biennial of Lima Museum of Art of Lima, Peru.
San Marcos University gallery, First solo exhibition.
SMALL SELECTION OF GROUP EXHIBITIONS:
2014 CORDIS Gender and Emblems of the American Baroque, Museum of America, Madrid, Spain.
2010 Peruvian Video Art curated by Aernout Mik, Center Telefonica Foundation, Peru.
ARTZOND International Festival of Conceptual Art, Saint Petersburg, Russia.
2009 Triennial of Art of Chile: Peruvian artists at Micro Museo.
2008-2011 Arte#Life, Action Art in the Americas 1960-2000, El Museo del Barrio, NY, Museum of Art Carrillo Gil, Mexico, Museum of Art of the Bank of the Republic, Colombia.
International Biennial of Sao Paulo-Valencia, Lo impuro y lo contaminado II: Pulsiones neo-barrocas en las rutas de Micromuseo; curated by Buntinx.
Nippon International Performance Art Festival, NIPAF 07, Tokyo, Nagoya and Nagano.
Urbe&Arte;:Imaginarios de Lima en transformacion: 25 years of architecture, visual arts and music; Museum of The Nation, Peru.
Miradas de Fin de Siglo, Museum of Art of Lima, Peru.
2007-2006-2005-2004 OUTVIDEO, Russia.
2001 Latin-American Video Exhibition, Queen Sofia National Museum of Contemporary Art (MNCARS), Madrid, Spain.
Her work has been featured in several books and art periodicals, among them the book ART#ACTION issued by the Museum del Barrio, New York, and at the Encyclopedia of Contemporary Art History, tome 5: Art and Architecture issued by El Comercio.
Related RSS Feeds