Profile Images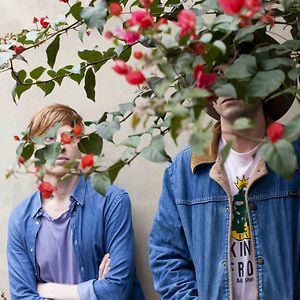 User Bio
Palms are Al Grigg (singer, guitarist) and Tom Wallace (drummer, girlish backing vocals), who were previously in Red Riders. Their first single is called "The Summer Is Done With Us", and was recorded with Owen Penglis (Royal Headache, Straight Arrows). It's very melodic, a bit scuzzy, and sounds like fun.
Al says: "'Summer Is Done With Us' seemed like a good choice for the first single because, at least until I developed a ridiculously misguided crush on someone, most of our songs are sort of about how we're nearing the end of the summer of our youth or whatever and while it's kinda sad and making us nostalgic, it's also kind of exciting to see what happens next. (Fun stuff still happens next, right?) I guess 'Summer Is Done With Us' kind of best sums up those feelings."
Palms are currently recording a full-length album with Owen, to be released mid 2012. In the meantime they intend to play a lot of shows, write a lot of songs and have a good time.
'The Summer Is Done With Us' is available for free download on iTunes itunes.apple.com/au/album/the-summer-is-done-with-us/id485223391?i=485223394
Related RSS Feeds
Recent Activity
Palms does not have any activity yet.