Profile Images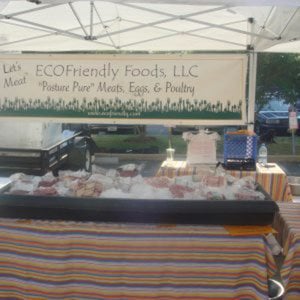 User Bio
EcoFriendly Foods is a company that was founded by Bev Eggleston, a protégé of Joel Salatin, a renowned agricultural lecturer, advocate and pioneer of small ethical family farming and raising pasture-fed animals.
For many years, Bev and Joel worked together farming and spreading the word about the benefits of returning to healthy farming and providing products crafted from these methods. Working for the family farmers, they invested large amounts of time lobbying for national and local legislation to open a venue for farmers who utilize a "holistic" approach to raise, harvest and market their products.
Recognizing the need for marketing "grass-grown" beef, pork, lamb, poultry and eggs, (thus, our "Pasture Pure" term), Bev Eggleston and his wife, Janelle, are committing their energies toward this end. They continue to foster public awareness of the benefits of "grass-grown" animal products by serving consumers directly at farmers' markets and and home buying clubs in the Washington, D.C., Virginia, Maryland and North Carolina areas. Additionally, many of the finest restaurants in Washington, D.C. and New York City now prominently feature EcoFriendly foods on their menu. (Just ask New York Times restaurant critic Frank Bruni!)
EcoFriendly Foods is now a bridge for the marketing and distribution of meat products for farmers who are embracing the successful model of humane and ethical standards for grass-based farming.
In the continuing evolution of this model, the question of humane and ethical standards of handling and harvesting needed to be addressed. In order to build a strong support infrastructure, a USDA certified processing facility was needed. Bev and Janelle purchased a processing plant in Moneta, Virginia which earned USDA certification.
EcoFriendly Foods provides the added benefit to consumers of product accountability, from the farm to their tables, and is proud to be a link between the meadows and the mainstream.
Because of growing public concerns for commercial industrial standards, EcoFriendly Foods offers an alternative and brings together those who are striving for an economical and ecological life style.
Together we can make a sound and sustainable difference in our world. You're not just a customer or a blog reader. You're a part of our story, too. Thanks for being here.
Want to contact us?
EcoFriendly Foods
3397 Stony Fork Road
Moneta, Virginia 24121
Ph: 540.297.9582
FAX: 540.297.9583
Toll-free: 1-866-EcoFriend (866.326.3743)
letsmeat@ecofriendly.com
Related RSS Feeds
Recent Activity
EcoFriendly Foods does not have any activity yet.