EMMANUEL MOTE
Joined

Location

Paris-New-York-London
Profile Images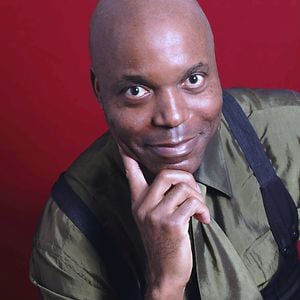 User Bio
Accomplished athlete, a follower of the adage: " Healthy mind in a healthy body..."
The writer Emmanuel MOTE is also a shukokai karate champion qnd an actor trained at the prestigious:
Lee Strasberg's School of Arts in New York Manhattan (actor's studio)
Graduated in Law, business management, his talent for writing comes out of his philosophical essays
that maddened his classmates... And that the professors used to read to all classes, as a model
of thought and insight on a philosophical problem, in the Canadian college, where he emigrated after
he left his parents at the age of 10 !
Leaving so Far from his parents, the young man originated in Cameroon will be entrusted this way
by his uncle, back then ambassador at UNESCO in New-York:
-« You left your parents too soon... You will suffer a considerable lack of affection, but I'll see to it that
you get love from hundreds of people.»
Before he understood everything, he was enrolled in the best acting classes in Montreal, and the
adolescent classes of Lee Strasberg's School Of Arts in New-York Manhattan. It is indeed thanks to the
cinema and the theater (He starts working at age age of 12 ) that he will find a little affection...
In the acclamations of the spectators! ...
Thus he very early conceived a sense of others, importance to love, protecting the weakest, receiving
Love by giving Love. He is landing thereafter to France after many films in Japan and South Africa
in particular:
Indeed, a French agent having read one of its interviews in an artistic review, over connections between
martial arts and the work of the actor, invites him in France for work ...
But it is France, where he landed from the U.S. Where he was about to start a career, that he will be
confronted with what he calls:
"Roles of ethnic figuration" granted to actors of color..."
It is however owing to this situation, that he discovers he is not only an artist awaiting phone rings ! ...
But a sensitive man, implied in the evolution of mentalities of his time, and who has so much to say ! ...
In particular owing to serious experience accumulated at the time when he used to perform in
South Africa : Soweto, Cape Town, but also when he made a sojourn in the American ghetto
of Jamaica-Queens in New York...
Just as in Japan, in the island of Kobe, where he worked as a movie actor, and improved his science of karate !
France Shukokai karate Champion, medalist at the European karate Championships, songwriter,
trilingual (French, American, and Spanish) and humanitarian association founder:
EMMANUEL DIEUDONNE MOTE owns the company EMMANUELMOTE-BOOKS.COM:
The first Numerical Library of literary creation !
Aged 33, looking to bring insight on social topics, he also wrote the following books in French and in English:
1- THE TRUTH ABOUT JUDAH: APOSTLE TREASURER AND THEFT
2- SOCCER ESSENTIALS FOR LADIES FEELING LET DOWN OVER MATCHES
3- AUTOPSIE DU SUICIDE & LES VRAIS-FAUX MARTYRS DU TERRORISME
4- LA VERITE SUR JUDAS : APÔTRE, TRESORIER ET VOLEUR
5- LE BA BA DU FOOT POUR LES FILLES QUI SE SENTENT SEULES LES JOURS DE MATCHES.
6- SYNDROME OF BABEL or the forsaken wisdom :
Showing that differences in colors and cultures in the earth, is a factor of beauty and riches, not of fear, contempt and divisions. Available Soon !
7- AITOPSY OF SUICIDE & THE TRUE-FALSE MARTYRS OF TERRORISM
Native of the sign of Taurus April 22, issued from a Cameroonian family whose maternal grandfather had German origins, Emmanuel MOTE is a guy who combines perseverance and work with an undeniable poetic dimension:
For EMMANUEL Tu Live is To Love and to Love is To Live !
Related RSS Feeds
Recent Activity
Divine Candice Nechitch ! Elle ne joue pas... Elle vit... Voilà ! Emmanuel MOTE Lee Strasberg's School Of Arts New-York Manhattan Actor, writer, song performer & France karate champion.