Pralex Gorier
Joined

Location

Ottawa, Ontario
Profile Images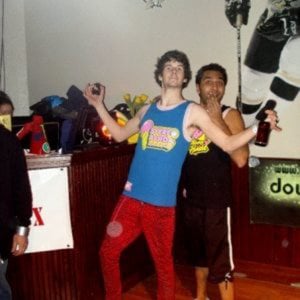 User Bio
Pralex is a new company founded by freestyle BMXer's Prasheel Gopal, and Alex Poirier. Always looking to expand and broaden our horizons, we have no intention of slowing down what we've started.
Constantly travelling and pushing ourselves to new boundaries, we are excited to start the new year, by already having travelled to Whitby, Ontario for a contest, where co-founder Alex Poirier took first place. Andrew Wylie also became our first official team rider this weekend and we look forward to showing you his riding as it develops this year.
**UPDATE**: Now that 2009 is half over, I thought I'd give you a little update on how Pralex has been doing. In Indianapolis Alex placed 5th and Prasheel placed 4th!
Next up was the Toronto contest which had an awesome turn out, where Alex placed 9th and Prasheel 7th.
After that Pralex headed to JoMoPro where they wanted to do a lot better then Toronto, so we trained hard and put up two training videos that can be found here, Alex ended up taking 1st place, Prasheel ended up 4th! We also added team members Cory Fester and Alexis La Grassa to the team on this trip!
Pralex (Alex and Prasheel) then went on a trip across southern Ontario to Brockville, Kitchener/Waterloo, Sarnia, Wyoming, Windsor and then finishing in Toronto for the Dandyhorse Magazine launch party where we did a show that went great!
Pralex (Alex, Prasheel, and Dylan Leeder) then took part in the making of a trailer for the International Bicycle Film Festival that will be seen in 39 locations arouond the World. We worked with director Marco Mucig who's work can be found here: snowgroup.net
Most recently Pralex (Alex & Prasheel) did a show at a stag & doe which didn't go as well as we hoped since the plywood we were riding on disagreed with us greatly, but we still threw down some tricks and falls and entertained at least a little bit!
Pralex is now working on a HD Pralex Web Video Trailer/Byke Project commercial which will hopefully be done in about a week to two weeks. The full HD Pralex Web Video is scheduled to be done by mid to late June. Stay tuned!
Co-Founders/Owners: Prasheel Gopal & Alex Poirier
Designer and Advertising: Addison Moore
Development & Research: Adam Jakomait
Photographer/Videographer: Dylan Leeder
Team Riders: Andrew Wylie, Alexis La Grassa, Cory Fester
Publicist/PR Representative: Krista Swynar
Related RSS Feeds