Joined

Location

belo horizonte - brazil
Profile Images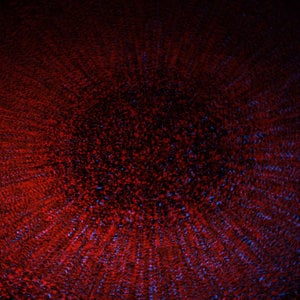 User Bio
HOL is a generative conceptual audiovisual project created by the multimedia artist Henrique Roscoe (1mpar). All the compositions have a correspondence between audio and video, and they are both played live, in real time performances. The project is based on the idea of synesthesia, but expanded, giving space to significations and references. Colors, shapes and movements of each element are synchronized with notes, harmonies and rhythm. Both music and image have the same importance and they are frequently generated together as the artist plays a note on the keyboard or on custom interfaces created in software and hardware.
A new and unique software instrument is created for each composition, so that the concept of each theme can be developed in its full possibilities.
There is also a conceptual approach in all compositions, so that each one represents emotions and feelings about each theme that is being developed. Every note, scale, colour, form, rhythm, has its meaning inside the composition and has its reason to be there. Each work is the result of an idea that will be materialized afterwards in sound and image.
Generative forms of creation have an important role in the project. There are no prerecorded loops and all images and sounds are generated in real time through programming. Although the artist has total control over many parameters, some are generated in a completely random way. Thus, the compositions are never played exactly the same way in each performance, making them unique and always new.
More information:
hol.1mpar.com
Festivals and exhibitions
2011
Hacklab Bahia - Brazil
Festival Cultura Digital - Brazil
Festival Amplitude - Brazil
Festival Instante - Brazil
roBOt Festival - Italy
Live Cinema - RJ/SP/Brazil
AVLAB - SP/Brazil
Kino lounge / MIS - SP/Brazil
ZIP - BH/Brazil
Sismógrafo - BH/Brazil
Residência Marginalia Lab - BH/Brazil
2010
Multiplicidade - RJ/Brazil
Circuito SESC de Artes - SP/Brazil
Festival Contato - SP/Brazil
FAD - Festival de Arte Digital - MG/Brazil
Jornada Brasileira de Imagens ao Vivo - CE/Brazil
VJ Torna Brasil - SP/Brazil
Video Ataq - RJ/Brazil
Festival Depois das Fronteiras - DF/Brazil
Mapping Festival - Swiss
Re-new - Dennmark
Live Performers Meeting - Italy
2009
Generative Arts - Italy
Kunstfilmtag - Germany
Giguk Videoart Festival - Germany
Dialectos Digitales - Bolívia
Espacio Enter - Spain
ON_OFF Festival - Brazil
One minute Festival – Swiss
Siana - Semana Internacional de Artes Digitais e Alternativas - Brazil
Images contre nature - France
Art Basel / Artport Cool Stories - Swiss
Palazzo Barberini - Italy
Athens Video Art - Greece
Computational Aesthetics - Canada
Human Emotion Project - Spain
Celebrar Brasília - Brazil
VisualBrasil - Spain
2008
Mostra Nacional de Live Cinema - Brazil
Festival PerroLoco - Brazil
FILE - Festival Internacional da linguagem eletrônica (2008) - Brazil
-------------------------------------------------------------------------------------------------------------
HOL é um projeto conceitual audiovisual generativo criado pelo artista multimídia Henrique Roscoe. Todas as composições buscam uma correspondência entre áudio e imagem e são executadas em performances ao vivo ou em vídeo. O projeto é baseado no conceito de sinestesia, porém ampliado, dando espaço para significações e referências. Cores, formas e movimentos de cada elemento são sincronizados com notas, harmonias e ritmos. Som e imagem têm exatamente a mesma importância e são gerados ao mesmo tempo ao se tocar cada nota no teclado, através dos instrumentos específicos construídos pelo artista em software e hardware.
Há uma base conceitual em cada composição, de forma que esta represente emoções e sentimentos a respeito do tema que está sendo desenvolvido. O projeto poderia ser explicado como "realismo abstrato", ou "abstratismo simbólico". Apesar de usar essencialmente imagens abstratas, estas sempre fazem referência a algum significado, contribuindo para o entendimento do tema de cada composição. Assim, apesar da parte estética ser trabalhada com grande apuro, ela não é o cerne do trabalho, pois o importante é transmitir a mensagem poética através dos elementos audiovisuais. Cada um destes elementos tem uma razão de existir e remete ao tema.
Um novo e único instrumento é construído para cada composição, a fim de que o conceito de cada tema possa se materializar sob todas suas possibilidades em som e imagem. Os instrumentos em software são construídos do zero usando os programas vvvv e max/msp.
As obras têm uma parte generativa. São usados pouquíssimos vídeos nas composições. Quase todas as imagens são geradas em tempo real a partir de algoritmos criados pelo artista. Também há uma parte que foge ao seu controle, pois muitas variáveis são geradas randomicamente. Desta forma, cada obra nunca é executada da mesma forma mais de uma vez, tornando as performances sempre atuais e únicas.
Para mais informações:
hol.1mpar.com
Related RSS Feeds