Dharmesh Sareriya
Joined

Location

mumbai
Profile Images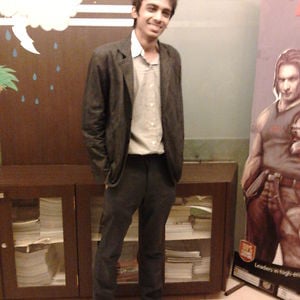 User Bio
CURRICULUM VITAE
Dharmesh R Sareriya
Permenant Address.
45, Digvijay Plot,New Jail Road,
Vajirpara Garbichowk,
Jamnagar.(Gujrat).(361005).
dharmeshsareriya@gmail.com
dharmesh_sareriya@yahoo.com
dharmeshsareriya@hotmail.com
Mob No:(+91)8655569657.
Carrier objective:(3D Artist/Character Modeler/BG Modeler/ Morph er Artist).(Autodesk Maya).
To reach the level of professional excellance with a desire to learn new concepts & skils as success comes only through dedication,persistent, hard work, & self confidence.
Educational Qualifications.
Completed Secondary School Certificate Examination[S.S.C]
In the year 2006.
Completed Higher Secondary Certificate Examination[H.S.C]
In the Year 2008.
Completed B.C.A. 1st Year.
In the Year 2009.
Completed Vfx Pro + Maya Pro(Certified Corse).
In the year 2011.
Tools.(Corse detail Softwear)(Vfx Pro + Maya Pro).
3d:
AutodeskMaya,PFSource,Mudbox,RealFlow(Hybrido),Maya Partical,Headus UVLayout.
2d:
Sckeching,StorybordSckeching,CorelDraw,Illustrator,Photoshop,HTML, Soundforge,Dreamweaver,Flash, Premiere,After Effect,Fusion,PFTreck, MachMover, FCP(Final Cut Pro).
Personl Traits.
Strong eye of Observation & color.
Strong problem-solving skills.
Respects deadlines.
Professional approach and positive attitude.
Work Profile.
I was worked in 3D Shot Film for 24FPS International Animation Awards as a manpower.
i was worked with Animxax Studio (India) Pvt.Ltd.3D Film as a (Supervisor/Teamleader).
Character Modeling :-(Supervisor).
BG Modeling :-(Supervisor).(Short Film).
Props Modeling :-(Supervisor).
Morpher Artist :-(Supervisor).
Texturing :-(Supervisor).
Lighting :-(Supervisor).(Short Film).
R & D Department.(Softwear/Plagins).
In my demo reel character-Dragon is part of my production work for Film.
Character Modeling & Texturing,Sculpting,BG Modeling & Texturing,Props Modeling & Texturing,Lighting,Sub Surface Scetring(sss),Morph er Artist, Headus UV Layout,Camera Blocking,Camera Angle,Photography,Dialogue Voiceower,Matte Painting output chacker.
Languages.
Gujrati.
Hindi.
English.
Personal Details.
Name :- Dharmesh R Sareriya.
Date of Birth :- 31st Aug 1990.
Religion :- Hindu.
Current Add :- Shree Dattatray Building, Plot No - (0821).2ndFloor,
Sector - 11,Juhugaon,Opp. Neelshiddhi Tower,Near
Well Come super Market,Vashi,Navi Mumbai.
Date :- 16st Jun 2012.
Place :- Vashi,Navi Mumbai.
Related RSS Feeds
Dharmesh Sareriya does not have any videos yet.
Recent Activity
you great job man any tutor about this ?

And i already waiting for your workflow and here it is thanks for sharing this with Artist thanks a lot :)