Mika Fineo
Joined

Location

Los Angeles, CA
Profile Images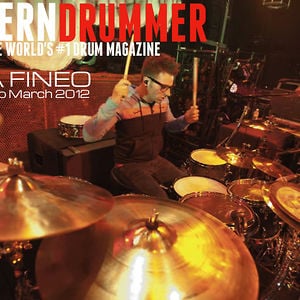 User Bio
Drummer for KARMIN, FILTER, ELLIOTT YAMIN, BLAKE LEWIS, PUDDLE OF MUDD, VANITY MACHINE/KEVIN HASTINGS, and more. I live and walk by FAITH!
LOS ANGELES BASED LIVE/STUDIO DRUMMER:
MUSICAL SKILLS INCLUDE: PIANO, KEYBOARDS/SYNTHS, BACKUP VOCALS, MUSIC EDUCATION, DRUM TECHNICIAN, DRUM DESIGN, MUSIC READING, JAZZ, SOUL/R&B, ROCK, HIP HOP, POP, AND DANCE/ELECTRONIC. EXPERIENCED IN PROGRAMMING LIVE ELECTRONICS/DRUM PADS AND SEQUENCES. PROFICIENT IN PERFORMING WITH A CLICK and LIVE TRACKS.
CONTACT MIKA AT:
officialmika@gmail.com
twitter.com/mikafineo
youtube.com/mikafineo
officialmika.com
MIKA ENDORSES: DW and PDP DRUMS, DW HARDWARE, 1964 EARS, KICKPORT, SABIAN CYMBALS, EVANS DRUMHEADS, VATER DRUMSTICKS, and CYMPAD.
QUOTES:
" Mika is a great drummer to represent his new generation of drummers. As a teacher and player his passion reassures you that the digital world will never keep talent from coming through"
- Don Lombardi (Founder of DW Drums and Drum Channel)
"An amazingly versatile and talented drummer. Mika fineo brings it all!"
– Richard Patrick (lead singer of Filter)
Mika truly exemplifies the word Professional in every sense!….my only regret about him, is that I didn't render his killer pocket SOONER! His musical sensibilities, knowledge, experience, and friendly nature make him a unique asset to our band, and I'd play with him ANYwhere, ANYtime moving forward!
- Elliott Yamin (American Idol)
"I've been fortunate enough to share the stage with Mika Fineo on many occasions over the past few years. I'm even more fortunate to call him a friend. Mika's the kind of rarity where incredible talent meets kindness and humility. The skill, groove, musicality, taste, and pocket that Mika brings to the band is only overshadowed by his grace and character off-stage. He IS the support system and energy that every band wants to have driving the groove. He is the friend and professional you want with you as you go thru life. I'm a fan of Mika." –
- Dan Lutz (Bass/Musical Director/Session Great)

"Surely a musical visionary. Always prepared, and proving subtle nuances to each musical phrase with class and and assertive confidence and excellent taste!"
- Jermain Stegall (Film Composer)
BIOGRAPHY:
In 2005 the Miami born Mika Fineo was growing tired of the South Florida music scene. Deep within exhausting negotiations between a few major label record deals at the time (with his then current project) Mika felt the pull to retract entirely and relocate to Los Angeles. With no regrets, Mika's decision to head west proved a wise choice. Among his arrival, Mika was soon in the hands of a new major label deal with Geffen Records – signing on with his new group Red Skeleton. It was only later during the 2007 absorption of Geffen into Interscope (leading to the eventual dropping of Red Skeleton from the label) where Mika was approached by the group FILTER to join in support their first major album release in 5 years. With all these events at hand and now deep among international tours with Filter, Mika had arrived among the forefront of the record industry… finding his reach multiplying rapidly.
Today Mika has generated a solid resume panning all styles of music and is most known now for his time spent as the drummer for the 4 times platinum selling group FILTER (from 2007-2012). During his time with the group, Mika co-wrote and released various Filter albums, tracked four major motion soundtracks, appeared in Filter music videos, TV performances, and several international tours. You can find Mika today currently jumping around world wide tours with major artists like KARMIN (mainly), ELLIOTT YAMIN, BLAKE LEWIS, VANITY MACHINE, and many others. Mika is also on call for many major sessions and collaborations with acclaimed artists and producers around the globe.
MIKA's APPROACH:
"I think when it comes to the way I approach the drums it will always be from a strong influence of Jazz, R&B and even Gospel music… crazy as that sounds! You can really apply these influences to almost any style of music. Many of today's new players, I find, tend to be narrow-minded and lack the vocabulary of all the many genres and approaches to music – that can really kill a career. Hopefully, I can inspire future generations to have an open ear for everything that's out there. From Jazz to Neo-Soul, to Synth/Dream Pop, to David Lynch film soundtracks… I want it all in the brain man!!! When I play, I want to sound like Mika. Hopefully, you can hear the influence of my past and present flow through me. I love when other players have a voice of their own – it's so inspiring. My advice: be humble and good-hearted within your objectives. Learn how to work well within a team of extreme diversity and be inspiring! When you show up… bring your best. Offer up what you're asked to do and have fun with it! Respect people and try to bring value to their lives whenever possible. It is amazing to be able to play music for a living. I know that it's not a right, it's a privilege".
Related RSS Feeds
Mika Fineo does not have any videos yet.