Liz Goldwyn
Plus
Joined

Location

Los Angeles, CA
Profile Images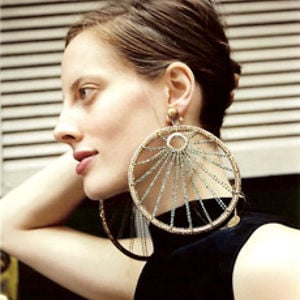 User Bio
Liz Goldwyn graduated from The School of Visual Arts in New York in 1999 with a B.F.A. in Photography, and a minor in Art History.
In 1997 while attending college Goldwyn was hired as consultant and curator for Sotheby's newly created fashion department. During her time there, she researched and cataloged the photography and illustration for the Paris `a la Mode, Nothing to Wear and To Have & To Hold auctions, and mounted exhibitions for said auctions with museum specialists. She produced the photography and cataloging of the clothing for the Marlene Dietrich Estate auction and mounted the costume exhibition for the Duke & Duchess of Windsor sale, among others. In 1999, she conceptualized and produced several exhibitions on behalf of Sotheby's in Los Angeles: a costume exhibition with Chanel in September 1999, and an installation of video art by Mariko Mori in conjunction with Jeffrey Deitch of Deitch Projects, sponsored by Costume National in March 2000.
In March 2000, Goldwyn was hired by the CEO of Shiseido America as global consultant. She founded and directed a fashion sponsorship and arts installation program for the company, producing fashion shows and art installations in New York and Los Angeles. She worked with Shiseido through March 2002.
While at Shiseido, Goldwyn began writing a monthly two-page column, titled "Liz Goldwyn: EYE," for the Japanese magazine, Hanatsubaki. Her column has appeared in the magazine between 2000-2011.
Goldwyn was New York Editor of French Vogue, for 2001-2002 where she contributed essays and articles to the magazine including an essay in the May 2002 issue on the designer Patrick Kelly and his role within the history of African-American design. She worked with curator Thelma Golden (Studio Museum of Harlem) on a Patrick Kelly retrospective at The Brooklyn Museum of Art, in April 2004. In November 2002 French Vogue published Goldwyn's essay on the history of cosmetics, focusing on poisonous beauty practices in the 19th century.
In October 2008, Goldwyn published an essay on designer Sonia Rykiel in the Rizzoli book on her life, Sonia Rykiel. Goldwyn's freelance writing continues to appear in publications and blogs including The New York Times Magazine, The Financial Times, British Vogue, C Magazine, The Huffington Post and The Daily Beast.
Goldwyn's first film, Pretty Things, a documentary that encompassed 8 years of research and first person interviews showcasing 20th century burlesque queens premiered on HBO in 2005 and the CBC in 2006.
Pretty Things was given non-profit status through New York Foundation for the Arts. Grants received for this project included New York State Council for the Arts and the Roy W. Dean grant. Foundation and Corporate Sponsors included Shiseido, The Rudin Foundation, The Taubman Foundation, Steve Tisch, MAC Cosmetics and Kate Spade.
Following the documentary, Goldwyn's first book, Pretty Things: the Last Generation of American Burlesque Queens, was published worldwide by HarperCollins (2006). A second printing in paperback followed in December 2010.
The Performing Arts Department of The New York Public Library will be the recipient of copies of Goldwyn's filmed interviews with the last generation of burlesque comedians and strip-teasers (1920-1960) for their archives. Additionally, Goldwyn has amassed a personal archive of costume, textile and related material covering the period 1860-2010, including an extensive collection of burlesque costumes from 1900-1960.
Museums and Universities at which Goldwyn has lectured on the topics of history of burlesque and costume include: Museum of Fine Arts, Boston; Phoenix Museum of Art; Fashion Institute of Technology (FIT); Otis School of Arts & Design; FIDM, Los Angeles County Museum of the Arts (LACMA).
In 2002 Goldwyn launched an eponymous line of one of a kind jewelry, which was sold worldwide. Goldwyn also made jewelry on commission for feature films such as Running with Scissors (2006). In 2007 a French jewelry house commissioned Goldwyn to create a 20-piece high jewelry collection using their rarest stones. The first pieces were unveiled from this top-secret project in 2009. Of the 4 completed pieces, 3 were sent to exhibition at the Mori Museum in Tokyo, as part of a retrospective on the house in Winter 2009. Goldwyn continues to create jewelry for exhibition. Her "Spinal Cord" necklace, shown on a live nude model, was included in the show "God Is In The Details" as part of the 2008 New Orleans Biennale.
In 2008 Goldwyn produced and directed a short film Underwater Ballet. The film was shot on the Phantom camera which records at 1000/fps. Through a public art collaboration with Clear Channel Communications, stills from Underwater Ballet were featured on over 86 LED billboards across Los Angeles in April- May 2009 and the six-minute film was screened in its' entirety on the Spectacolor billboard in Times Square twice an hour from May 1-6th, 2009.
In October 2008 Goldwyn curated a documentary program at Los Angeles County Museum for the Arts (LACMA). Her "anti-glamour" film series was held in conjunction with the Vanity Fair Portraits exhibition at the museum from October 2008 to February 2009. The series opened with Goldwyn's film Pretty Things.
In 2009 Goldwyn was commissioned by Le Bon Marché in Paris to create a Los Angeles themed multimedia installation. The exhibition included ten storefront display windows installed with a photographic work titled "Musical Palm Trees" and featured an original score by composer Money Mark Nishita. Inside Le Bon Marché, Goldwyn's series of five shorts entitled Los Angeles at Night were screened in a custom-built installation cube. The exhibition ran from August 27-October 12 2009.
In 2011, Goldwyn wrote and directed a short film, Painted Lady starring Jena Malone. The film premiered in an art installation in Los Angeles in November 2012. The installation recreated a 1890s brothel in a private residence, in which rooms were turned into sets and featured female performers as "ladies of the house". Painted Lady played in the "Madam's salon" set.
In 2012, Goldwyn collaborated with MAC Cosmetics on a collection of makeup bags and accessories, available globally. Also in 2012, Goldwyn collaborated with skateboard company Altamont Apparel on a street-wear collection inspired by her archive of burlesque and pin up materials.
Goldwyn continues her work with writing, film and design.