Profile Images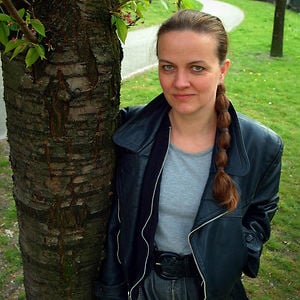 User Bio
Arjanne Laan is a filmmaker, editor and researcher for documentaries.
She graduated as a graphic designer, film animator and photographer at the Academy of Arts in Arnhem. She mastered directing and editing at the documentary film school VARAN in Paris.
At the Baschwitz Institute in Amsterdam she studied –extracurricular- Mass Communication & Mass Psychology. (at the UVA) She works as a filmmaker; as an editor and script editor.
She is Lector Film at the Willem de Kooning Academy Rotterdam.
She is a member of OPA - Ontwerpers Platform Arnhem
FILMOGRAPY ARJANNE LAAN:
2013 Frightened Children. frightened children
Sonya, Milad Ahmed Bille and Primrose are young children in the Netherlands, who live in fear. They are likely to be deported to unsafe countries. Such as Afghanistan, Somalia and Uganda. That gives them traumas, which heavily inflicts damage to their lives. The young Arbesa has been deported and lives in Kosovo. She is traumatized by this expulsion. What are we doing with the lives of those asylum seeking children. One episode in a series of four documentaries for VARA-TV on asylum seeking children in The Netherlands.
Commissioned by Kees Schaap for VARA.
Broadcast release: In July 2013 and September 2013.
202.00 spectators.
DVD and Bluray release September 2013
Internet release: July 2013
11.400 spectators.
2013 Medals & Spikes.
For SeriousFilm. A search for Laan's passion for the phenomenon of the sprint. She follows 5 young upcoming young Antillian sport talents. Who have as an inspiration the sprinter Churandy Martina. Medals & Spikes reflects the strength of these sportsmen and - women and their vulnerability as human beings. Top sport can create a lot of pressure and some of the athletes will break under it. The young Antillian sprinters live in the multi cultural city Rotterdam. Scenario: Arjanne Laan in coöperation with Peter Delpeut.
Broadcasted: In December-January 2012-2013 and March 2013.
342.00 spectators.
DVD and Bluray released februari 2013
2012: La Lotta Continua inter active film. Ipad & android related For Moving Image /start research. About the idealistic and often leftwing film and art-makers of the 60th and the new generation of European young film and art-makers. (58 min) Research is to be extended to cinema release and IPad release. On the internetsite: HollandDoc she has a research BLOG
2011. Abril en Managua. In pre production with Interakt. The first free concert in Managua. After the fall of the Somoza regime. Work in Progress
2011. La Lotta Continua. In pre production for Moving Image Production. Is art nowadays just a sugar tenon of recreation? Of show and entertainment? Project started as a researchblog on the VPRO site HollandDoc in 2009. Work in Progress
2009: Short documentary "The Beehive", (KaffeePowuzzie) together with Music Composer Patricio Wang. Producer: Moving Image. Online videotheque Festival International du Court Metrage Clermont Ferrand
2007. 'Mama Calle' (nr. 45) en 'Velo Negro' (nr. 90), are represented in the top 100 of all (1031) IDFA films that were shown at IDFA past 20 years.
2008: For Moving Image she worked on a short installation The Beauty of Winning (15 min) A mixture of music, dance and sports.
2007/2006: She's finished the film Sons of the Sea (Hijos de la Mar) about a Spanish fishing village in Galicia where the Bulk ship Prestige spilled it s oil. The Spanish sea man who worked as immigrants and earned through hard work their money in Rotterdam Harbor and see their children's future severely damaged.
Producer: BosBros Film & Video productions
for Spanish TV Gallego & Dutch TV Rijnmond
Festival: IDFA Amsterdam 2007; Prix d'europe 2007; Spain – Galicia 2007; Green Film Festival in Seoul 2008; Dutch Film Festival 2008
2008/2006: For Moving Image she made a short documentary The Beehive/Kaffee Powuzzie, together with Music Composer Patricio Wang.
2005: "26000 faces" 18 portraits of asylum seeking children.
Laan did the commissioning editing for Interakt/26000 faces and NPS /VPRO.
2004: BE STRONG!
For 26000 faces a project of several Dutch filmmakers Laan directed:
BE STRONG! Is a two minute portrait of three young asylum seekers in Holland. They rap a strong song to say farewell to their friend, who will be expelled from Holland soon. Three boys, 13, 14 and 15 years of age, from three different countries Angola, Afghanistan and Rwanda- rapping their hearts and souls out in their political rap: "Be Strong!"
2004-2005: She wrote the script for the Selim's Song
A documentary about the young Turkish boy Selim. Who searches the composer of a popular dutch song in the 60's. A song about his grandad. A song that depects the old man as a uncivilised person. Selim is angry about that. What on earth made the man compose this racist song?
Can he find the composer and make him sing the song right in his face? Selim searches frantically.
Producer: Moving Image Production
2004: For NCRV Dokument Junior (Dutch Children's TV z@ppelin) she made the children's documentary Walla about kids playing on the Streets.
2004. A 50 minutes film Nostalgia forced to move house. Produced by: IKON.
Broadcasted: the Dutch childrens channel Z@ppelin Dutch TV 3
2002: Grandpa's Secret Suitcase'. A young girl Florence discovers a secret when her grandfather dies. She finds love letters and photographs in his secret Trunk. Production: Ikon - TV + BosBros Film & TV productions.
In 2000 Grandpa's Secret Suitcase' received a special mention for the script-outline at the Cinekid festival.
Festival: Cinekid 2002; IDFA Amsterdam 2002; Prix Danube 2003; DocPoint - Helsinki Documentary Film Festival 2004; Greece 6th Olympia International Film Festival 2004.
Broadcasted: 2002 Dutch TV 3 Z@ppelin and 2004 Dutch TV 3 Z@ppelin
2002 A series of portraits of Youngsters and their approach to death "Searching for Mr. Death" Part one: "Machetes & Machine Guns". Part two: "Dead Birds". Produced by IKON & Arjanne Laan. Broadcasted: Dutch TV 3 Z@ppelin, BVN-TV (Dutch World Services) & VRT.
2001: "The Forgery" A 50 minutes documentary on false art and greed in the art world. Script & director: Arjanne Laan. Produced: NFI and NPS TV .
Broadcasted: NPS-Dutch Television; Finish TV YLE; Pay TV –Italy and Brasil
Internet release: Docsonline.TV
In 1997-1999, she finished two series of short documentaries "Love Itches" and "Ana from Nicaragua". Produced by IKON TV. Broadcasted: Dutch TV 1
1994-1997. She directed the documentary "Velo Negro" a film about young Mexican immigrants searching for the 'Promised Land', the USA.
Awards: 1994 Script Award for Creative Documentary ( European Media Project).
1996 'Prix Joris Ivens': at the festival Cinema du Reel in Paris.
1996: the ëAmbiente-Incontri International Jury Awardà in Italy.
Festivals:: Dutch Film Festival; Cinema du Reel-Paris; International Documentary Festival Amsterdam; Ambiente-Incontri-Italy; La Moviola-Italy; Valladolid-Spain; Montreal-Canada; Document-Art-Berlin-Germany; Amascultura - Portugal; Beeld voor Beeld-Amsterdam; Freiburger Film Forum-Germany; Chicago Film Festival; Italian Filmfestival Triest, and the Immigrants Filmfestival Sweden, Bombay Int. Filmfestival.
Broadcasted: Dutch TV 1, Finish TV and Mexican TV. Cinema release: The Netherlands and Denmark.
Danish-Dutch co-production.
Internet release: Docsonline.TV
1992-1993. The documentary "Ward 4". This 40 minutes documentary, deals with mentally and physically handicapped kids and their parents.
Broadcasted: Dutch TV 3. Video-Distribution: Holland & Belgium
1992. At the Italian Festival "Ambiente-Incontri 1992″ Arjanne Laan won the City of Sacile Prize , for the best script. With the fiction filmscript "Nordic Pacific Transit".
1990-1991. She wrote and directed the documentary "Mama Calle", a film about streetkids.
Awards: 'Prize of the City of Utrecht' on the Dutch Film Festival 1990, the 'Premio Costa Azul' in Portugal, and the 'Gold Hugo Award' for best documentary In the USA in1991 at the Chicago International Filmfestival.
Festivals: Cannes (Ecran Ouvert). Utrecht, IDFA Amsterdam, IFF Rotterdam, Creteil, Toulouse, Troia, Edinburgh, Cairo, Chicago, Yamagata, San Sebastian, Tel Aviv, Leipzig, Sao Paolo and Bombay.
Broadcasted: The Netherlands, Finland and Mexico.
Cinema Release: The Netherlands, Japan, and Mexico.
Internet release: Docsonline.TV
Related RSS Feeds
arjanne laan does not have any videos yet.