dANGEL pHOENIX_Sensations
Joined

Location

Valencia
Profile Images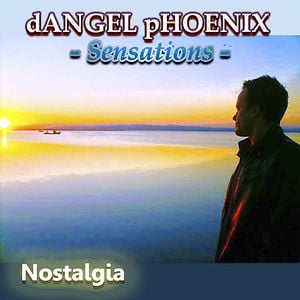 User Bio
- Original electronic compositions of the genre:
* dANGEL pHOENIX_Energy: Electronic, Alternative, Psychedelic, Cyber, Epic …
* dANGEL pHOENIX_Sensations: Ambient, New Age, Relax, Climax, World Music, Cosmos, Space, New Wave, Epic …
- Composiciones electrónicas originales del género:
* dANGEL pHOENIX Energía: Electrónica, Alternativa, Psicodelia, Cibernética, Épica …
* dANGEL pHOENIX Sensaciones: Ambiente, Nueva Era, Relax, Climax, Músicas del mundo, Cosmos, Espacio, Nueva Onda, Épica …
BIOGRAPHY
My name is Daniel Alvarez and I live in Valencia (Spain). * I began to feel music through my veins since I can remember. * From a very early age, he felt that the music was a special part of me. I do not "hear" the music, I "understood" music. The pulses of waves that typically are transmitted in mobility (the dance) or the internalized feelings and I enjoyed in my head deciphering, decomposing and storing each of the sounds that made up the melodies of the songs. * To develop my musical ability at age 9 entered the music conservatory to play the saxophone until age 17 that I had to leave (in 3rd Intermediate) by incompatibilities with studies of old age (high school). In these eight years as a musician I had many enriching experiences. In the 2nd year of elementary grade musical (at age 11) and played saxophone to belong to the boy band musical union. In 3rd (at age 12) and I had been upgraded to the higher band of union being the youngest musician doing gigs in the Music Palace in Valencia among other important sites. In this year also experienced my first failure in a brass band performances in the bullring in Valencia. * At 14 years old I discovered a simple program of musical composition (using virtual instruments) for "Play Station 1" called "MUSIC / MUSIC 2000" with the composer who woke me creating about 15 songs that got recorded as I could in some analog tapes that even today I keep (not rule masterizarlas, enhance and publish digitally in the future). * At 17, he was no longer involved with music professionally (the conservatory with saxophone) so it would begin a "self-taught musical stage" in new technological fields of the moment "digital music operating systems." The operating system of the time was Windows 98 and met my first serious program audio mixing "SONY Acid Music" and DJ software "Virtual DJ". With these programs experienced what is the mix and the audio mix. I made many mixes between songs. * At 20 he met the program "Fruity Loops". With this program amounted to a higher level in my musical production path as it was a semi-professional program. This program I immersed myself in a new musical universe of infinite possibilities with the complexity that it entailed. The program was in English so that their learning would be long, but the result is worth it. With it came some 21 new experimental subjects ... , * At 23 he had composed many songs but very few considered good enough to teach the public, did not have the sufficient quality to be considered well-crafted and professional jobs. I needed to keep progressing and improving. * At age 24 I started working with a new program (FL Studio) and study techniques sound quality and music production. * CURRENTLY: I'm studying up on sound technical programs highest professional music production as Pro-Tools and Cubase. I'm soaking expertise and sound properties that will keep the quality gets fouled my musical projects. I invite you to follow my path and musical evolution as progress and hope to continue to be a musician to get "real" making real music!.
BIOGRAFÍA
Mi nombre es Daniel Álvarez y vivo en Valencia (España). * Empecé a sentir la música por mis venas desde que tuve uso de razón. * Desde muy pronta edad sentía que la música formaba una parte especial de mi persona. Yo no "escuchaba" la música, yo "entendía" la música. Los impulsos de sus ondas que normalmente se transmiten en movilidad (el baile) o sentimientos yo las interiorizaba y las disfrutaba en mi cabeza descifrándolas, descomponiéndolas y memorizando cada uno de los sonidos que componían las melodías de las canciones. * Para desarrollar mi habilidad musical a los 9 años entré en el conservatorio musical para tocar el saxofón hasta los 17 años que lo tuve que dejar (en 3º de Grado Medio) por incompatibilidades con los estudios propios de la edad (el bachillerato). En estos 8 años como músico tuve infinidad de experiencias enriquecedoras. En el 2º curso del grado elemental musical (a los 11 años) ya tocaba el saxofón como para pertenecer a la banda juvenil de la unión musical. En 3º (a los 12 años) ya me habían ascendido a la banda mayor de la unión siendo el músico más joven de esta haciendo conciertos en el Palacio de la música de Valencia entre otros sitios importantes. En este año experimenté también mis primeras fallas en una charanga con actuaciones en la plaza de toros de Valencia. * A los 14 años de edad descubrí un programa sencillo de composición musical (mediante instrumentos virtuales) para "Play Station 1" llamado "MUSIC/MUSIC 2000" con el que desperté mi lado compositor creando unas 15 canciones que conseguí grabar como pude en unas cintas analógicas que aún hoy en día conservo (no descarto masterizarlas, mejorarlas y publicarlas digitalmente en un futuro). * A los 17 años ya no estaba vinculado a la música profesionalmente (al conservatorio con el saxofón) por lo que comenzaría una "etapa musical autodidacta" en los nuevos campos tecnológicos del momento "la música digital con sistemas operativos". El sistema operativo de ese momento fue Windows 98 y con el conocí a mi primer programa serio de mezcla de audio "SONY Acid Music" y un programa DJ "Virtual DJ". Con estos programas experimenté lo que es el mix y la mezcla de audio. Realicé multitud de mezclas entre canciones. * A los 20 años conocí el programa "Fruity Loops". Con este programa ascendía a un nivel superior en mi trayectoria de producción musical ya que se trataba de un programa semi-profesional. Este programa me sumergía en un nuevo universo de posibilidades infinitas musicales con la complejidad que ello conllevaba. El programa estaba en inglés por lo que su aprendizaje sería largo, pero el resultado merecería la pena. Con él vinieron unos 21 temas nuevos experimentales ... , * A los 23 años había compuesto muchas canciones pero muy pocas las consideraba lo suficientemente buenas como para poder enseñarlas al público, no tenían la calidad suficiente como para considerarse trabajos bien elaborados y profesionales. Necesitaba seguir progresando y mejorando. * A los 24 años comencé a trabajar con un programa nuevo (FL Studio) y a estudiar técnicas de calidad del sonido y producción musical. * ACTUALMENTE: Estoy estudiando Técnico superior en sonido con programas de máximo nivel profesional de producción musical como Pro-Tools y Cubase. Estoy empapándome de conocimientos técnicos y propiedades del sonido que lograrán que consiga esa calidad que hace falta a mis proyectos musicales. Os invito a que sigáis mi trayectoria y evolución musical pues espero seguir progresando y conseguir ser un músico "de verdad" haciendo música de verdad!.
CONTACT:
dangel_phoenix_music@hotmail.com
Related RSS Feeds