Profile Images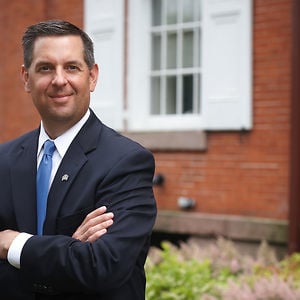 User Bio
Public corruption, illegal and synthetic drugs, child abuse and technology-driven crimes such as elder abuse and identity theft have dominated the news. These crimes aren't just something we hear about, they are crimes that have had an impact in the lives of our neighbors and our communities.
Pennsylvania's next Attorney General must be a highly qualified prosecutor who has experience making the tough calls and understands when vigilance must turn into aggressive action. David Freed believes prosecutors don't just prosecute cases. They must be nimble enough to react to current trends and able to institute changes to address the pressing needs of law enforcement.
As a 15-year prosecutor and Cumberland County's District Attorney since 2006, David Freed has the boots on the ground experience that Pennsylvania families, seniors, communities and businesses can trust to make them safer and more secure. He is also a statewide leader in improving Pennsylvania's criminal justice system.
Throughout his career, David has prosecuted murder cases, run grand jury investigations, taken down child pornographers, and locked up drug dealers, child molesters and arsonists. He has tried insurance fraud cases and directed complex elder abuse and power of attorney fraud cases. And he has brought cases against contractors who have defrauded homeowners. He has pursued an aggressive program of diversion and treatment for those who deserve it – all while overseeing an office that handles over 4,000 cases per year.
Recognizing the increasing strain on public funds, David Freed has planned and developed numerous county wide operations using a task force model, improving case processing and investigation using existing resources. His office currently oversees a county-wide drug task force, forensic investigations unit, vehicle accident reconstruction team and a computer forensic team and laboratory. In addition, Cumberland County continues to be the only District Attorney's office outside of a major city in the Commonwealth to conduct in-house scientific testing of both blood and suspected illegal drugs.
As Vice President of the Pennsylvania District Attorneys Association, David has worked with his colleagues to ensure that convictions are convictions with integrity. He has led the efforts to make bath salts and synthetic marijuana illegal; he has closed the loopholes in Megan's Law. It is one of many reasons why over 40 of his fellow prosecutors have endorsed his candidacy for Attorney General.
David is a 1988 graduate of Camp Hill High School in Camp Hill, Pennsylvania. He received his B.A., cum laude, from Washington and Lee University and his J.D. from the Pennsylvania State University Dickinson School of Law. He lectures frequently on various law enforcement topics including Trial Advocacy, Victims Rights and Services, Domestic Violence, Sexual Assault, DUI and Juvenile Justice. David has lectured for the Pennsylvania Bar Institute, The Pennsylvania District Attorneys Institute and was a faculty member of the National College of District Attorneys National Advocacy Center in Columbia, South Carolina.
David also serves as an Honorary Board Member for the Keystone Area Council of Boy Scouts of America, a member of Fight Crime Invest in Kids – Pennsylvania and coaches little league baseball and basketball.
David resides in Camp Hill, Pennsylvania with his wife Amy and their 3 children.
Related RSS Feeds