Profile Images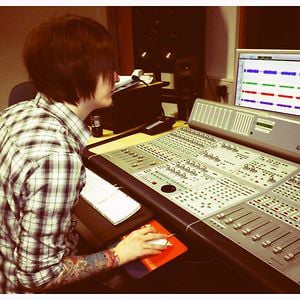 User Bio
My name is Daryl Robertson, a live sound engineer/ composer from Dundee. I have recently graduated with a 1st class honours degree in Creative Sound Production as well as having a HNC and HND in audio engineering.
I worked as a live sound engineer at White Hall Theatre for around a year and a half. While working there I have had the privilege of working with a lot of great acts such as –
Alan Carr, Ed Byrne, Andy Parsons, Jim Davidson, Milton Jones, Jason Byrne and many more.
As well as Live sound experience I also have experience in studio work. I am fluent at using Protools and other equipment.
I have recently started composing "Audio Skins" for the game audio company Euphonious Ltd. You can find my work here:
audioskins.com/index.php?route=product/product&keyword=damage&category_id=0&product_id=336
Related RSS Feeds
Daryl Robertson does not have any videos yet.
Recent Activity
are you looking for original music and sound effects for your short film, web site, ect... well i am currently looking to get involved in as many projects as possible, paid or unpaid. if you would like to work with me feel free to email me darylroberts

Hi my name is Daryl I am currently looking for film projects to get involved in. If you are interested in working with me please email me darylrobertson91@gmail.com You can find some of my work here https://soundcloud.com/daryl-robertson

I am also interested in working with you. you can fine my stuff here: https://soundcloud.com/daryl-robertson http://www.audioskins.com/index.php?route=product/product&keyword=damage&category_id=0&product_id=336

im interested in working with you. you can find some of my work here feel free to email me: darylrobertson91@gmail.com Links: https://soundcloud.com/daryl-robertson, http://www.audioskins.com/index.php?route=product/product&keyword=damage&category_id=0

i would be very interested in helping you out, here are some of my tracks: http://www.audioskins.com/index.php?route=product/product&keyword=damage&category_id=0&product_id=336 http://soundcloud.com/daryl-robertson/sets feel free to email me…

sorry that link should be http://soundcloud.com/daryl-robertson/sets

I am interested in working with you on this project. You can find some of my music here - http://soundcloud.com/you/sets feel free to email me to ask any questions. darylrobertson91@gmail.com