Babbi Srl
Joined

Location

Bertinoro, Emila Romagna, Italy
Profile Images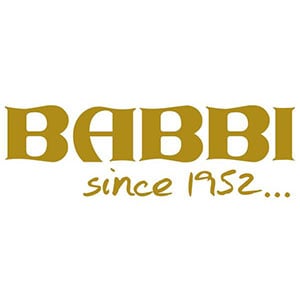 User Bio
Dal 1952, nel cuore della Romagna sorgono gli stabilimenti Babbi, un vero e proprio mondo di dolcezza e di bontà dove, da oltre 60 anni, mani esperte forgiano capolavori di gusto come gli storici Waferini o i leggendari Viennesi, ormai famosi in tutto il mondo.
In Babbi troviamo due linee di produzione: quella dei SEMILAVORATI PER GELATERIE, linea di partenza dell'azienda nel 1952, e quella del DOLCIARIO, creata all'inizio degli anni Sessanta da Nonno Attilio Babbi per ovviare al problema della diminuzione di lavoro nel periodo invernale.
Da questa idea geniale prese il via la produzione delle specialità dolciarie Babbi, fiore all'occhiello dell'azienda: dai fragranti Waferini, agli armoniosi Viennesi, dalle eleganti Praline, alle superlative Creme Spalmabili…ogni prodotto Babbi regala un piacere indescrivibile!
Il nostro segreto sono le ricercatissime materie prime, i processi di lavorazione artigianali, l'attenzione alla qualità, e soprattutto la PASSIONE che ci mettiamo nell'impasto: l'ingrediente segreto che rende UNICI i nostri PRODOTTI.
Ci preoccupiamo anche di fornire una FORMAZIONE eccellente a coloro che vogliono APRIRE UNA GELATERIA e di tenere sempre aggiornati i già navigati mastri gelatai.
_____
Since 1952, Babbi it's a leading company in the production of confectionery specialties such as Waferini and Viennesi, wafers and cones, raw materials for Gelato making, Gelato and desserts.
Babbi plant rises in the very heart of the Romagna: it is a fabulous world made up of sweet and delicious products. Since 1952, skilled workers realize masterpieces of taste, such as the famous Waferini and Viennesi, well-known all over the world.
Babbi features two production lines: the Artisan Gelato one, the start-up activity of Babbi in 1952, and the Speciality Confectionery one, which has been created in 1958 by Attilio Babbi in order to compensate for the fall in activity during the winter season.
This clever idea paved the way to the production of Confectionery Specialties, Babbi's flagship: From the crispy Waferini, to the harmonious Viennesi, from the elegant Pralins, to the perfect Spreadable Creams….each Babbi product gives you an unbelievable pleasure.
Our secret lies in the refined raw materials, in the traditional processes, in the attention we give to quality, and above all in the PASSION we put on the production: this is the secret ingredient that makes UNIQUE our PRODUCTS.
We also take care of your EDUCATION: we hold classes both for those who want to OPEN A GELATERIA and have to LEARN the basics, and for those who already master the art of Gelato but wants to be always UP TO DATE.
Related RSS Feeds