Rouge international
PRO
Joined
Profile Images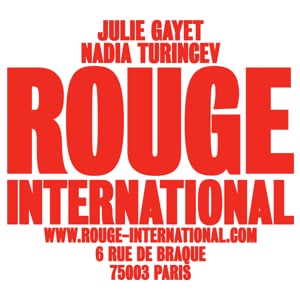 User Bio
"Universality is when you push out the walls of your kitchen..."
Rouge International is a production company created in 2007 by Nadia Turincev & Julie Gayet.
Julie Gayet - Producer
She was born in 1972, in Suresnes, near Paris. Actress? French famous journalist Thierry Cheze wrote about her in Studio magazine "She is an enthusiast. We can spend hours listening to her as she talks about sports, paintings, politics, or about her recent roles and projects to come. For she has a down to earth approach to her job, never hiding behind inaccessible dreams. Each time Julie Gayet creates, changes completely in roles that are so far ones from the others. Too scattered? Certainly not. Too discrete? Probably. While showing no interest whatsoever in self-promotion, Julie stands out naturally thanks to her eclectic curiosity." Selective filmography: Select Hotel by Laurent Bouhnik, Delphine 1 - Yvan 0 by Dominique Farrugia, Confusion of Genders by Ilan Duran Cohen, Clara et Moi by Arnaud Viard, My Best Friend by Patrice Leconte, Shall We Kiss ? by Emmanuel Mouret.
Nadia Turincev - Producer
She was born in 1970 in Moscow-USSR. Cinema? Because of the Mikhalkov-Konchalovsky brothers: she started going intensively to the movies at the age of 12 because madely in love with Andrei Konchalovsky, and at the age of 16 started working, as a trainee on Nikita Mikhalkov's Dark Eyes with Marcello Mastroianni. For several years she worked as set translator and dialogue coach on international co-productions. Then she developed two feature films - one by Mikhail Kobakhidze, the other by late Alexander Kaïdanovsky - which were never completed. Mourning for these projects and yearning to learn more on the sector, she got involved in EU issues: after ACE-Ateliers du Cinéma Européen (European Film Studio) and Europa Cinemas, she was named General Secretary of the European Producers Club. Then her wish to learn about film festivals got luckily fulfilled: she was member of the selection committee of Cannes Film Festival's Directors Fortnight, in the ephemeral team of François Da Silva, and from January 2004 started as artistic director of the Moscow IFF where she stayed on duty for two years. In 2007, with partner Julie Gayet, she started her own production company, rouge international. She is also, since 2001, working as an expert for EU programme Media Development.