Decolonize the City!
Joined
Profile Images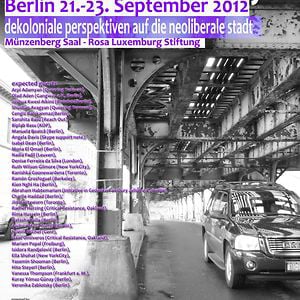 User Bio
The »Decolonize the City!« conference was taking place September 21.-23. in Berlin and aimed at developing a decolonial perspective on the neoliberal city. Our intention was to add to and foster debate on the effects of globalized capitalism and its modes of action in respect to the City. We examined politico-economical approaches in Urban Studies critical of the commodification of urban space as well as urban social movements staging resistance to these processes theorized as gentrification and touristification. However, these perspectives in fact only superficially address who is being displaced – namely working-class immigrant and/or neighborhoods of color. What happens when those who have been confined to particular areas of the city have to move as their income steadily decreases, rents go up and forms of social surveillance and policing intensify? Anti-racist perspectives on the intersections of neoliberal, racist and heterosexist urban (development) policies are (so far) utterly absent from German critical Urban Studies.
Related RSS Feeds
Decolonize the City! does not have any videos yet.