ananosoy
Joined

Location

Los Zorzales, Buenos Aires
Profile Images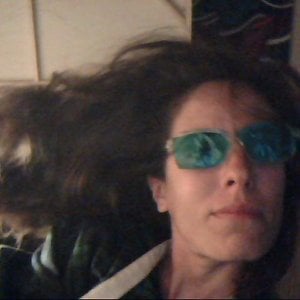 User Bio
ejecutora de arte. homemade
que debe conocer la gente de mí?
gosto de quesos. gosto de sucos. gosto de mate, agua y coca cola clasica.
gosto de frutas: laranja, frutillas, melao, seresa o cereza, Aprikosen, abacaxi, banana, coco rallado, manzanos, mandarina bastante y kiwi, especialmente para contemplar.
gosto de seres humanos. gosto de las piernas, gosto de los hombros, gosto de las pestañas, gosto de los dedos, de las cajas toraxicas, de las colas, de las mandibulas, del cabello, de la forma de los cráneos. gosto de las orejas, las narices y los pies. Y lo que se ve dentro de los ojos. el alma.
gosto de algunos cuantos animales y de la naturaleza vegetal.
gosto de los sonidos y los aromas. (lo visual que es a lo que me dedique bastante es casual)
gosto de misiones. muito muito muito.
y de pensar en todos los lugares que aun no conozco.
gosto de la vida, más que nada.
Tengo un diálogo ininterrumpido con D. y con the D. (no me dieron religión pero frecuenté el templo y la iglesia en mi adolescencia y la experiencia fue positiva. creo en fuerzas/energías más grandes q uno)
Ambas D, es decir D. y the D. (una me abraza y me contiene, la otra me advierte y me amenaza.) me avisan que la vida con sus días son gotitas que bajan o suben mas allá de uno y que el líquido de la botella no es un océano infinito. tiene una cantidad de gotitas determinado y que más me vale estar consciente de esto. porque la botella sigue goteando y en algún momento se acaba.
enfin: toma. toma y entrega todo lo que puedas y quieras, de manera personal, creativa, con libertad.
cuál es mi sueño y aspiración?
contribuir para que nuestro hábitat y sus elementos se sientan mejor, a gusto.
en qué quisiera reencarnar si esto es posible?
en forma de aire revuelto. viento.
me gustaría ser invisible y a su vez visible a través de todo lo otro que acaricio, atraviezo, transformo.
un sujeto tácito.
Related RSS Feeds