Yoga With Adriene
Plus
Joined

Location

Austin, TX
Profile Images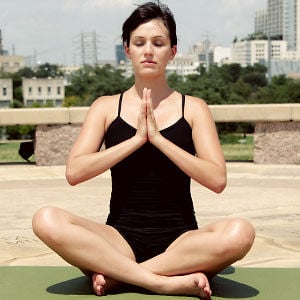 User Bio
Hi there! My name is Adriene Mishler and I was born and raised in Austin, TX.(Please cue the Texas Fight song as played by a chorus of beautiful Japanese flutists.) I'm a vegetarian who likes BBQ sauce, bluebonnets, antiques and vintage clothes. I have an affinity for children and animals. I love Rumi and I went to my first Rodeo just this year. WTF? I'm a professional actress in film, commercial and theatre and I teach performance, movement and yoga for all ages. I love my family, my friends and my community. I am blessed.
My practice of yoga started at a young age as a dancer. We did not call it yoga but it started then. An integration of Mind Body and Heart. Born into a "Mind Body Soul" household I was encouraged to dance like no one was watching. Right Mom and Dad? Born into house of music, writing and performance I was always enrolled in dance, gymnastics and theatre arts. (I know, I said I was blessed!) Both my parents were "Theatre People" and to this day I count my lucky stars for them. I was raised with an appreciation for the body and though I was extremely shy as a child I was supported enough to understand not only how interconnected the Body, Mind and Spirit are, but also how important it is to give them attention and love. To dance! And now later on in life, to find balance. BALANCE. Did I mention I was a Libra?
Cut to Freshman year of college. Adriene in a Kundalini yoga class, for credit. Kundalini is really where I really decided to be on team consciousness. I discovered so many new things about myself at this vital time and realized what my mother had been talking about all of those years. Conscious breathing. Being conscious with your words. Mother f**king AWARENESS! Here I was introduced to so many new ingredients to put into my practice. I also became obsessed with Rumi. (This actually started in 9th grade when I purchased the pocket Rumi from Bookpeople almost at random. I used to spend HOURS in the bookstore while my mom read in the aisles for pleasure. Me smelling incense, soaps and scouring the work of Sufi poets in the aisle next door to mom and her astrology. Love you mom!)
Since that time I have been learning, working, living and breathing what I love. I completed a teacher training, I traveled to train for the theatre, I taught in gyms and co-ops and backyards, even a moon bounce. I've worked in the schools, I'm connected to a growing theatre community, I got an agent and I started acting in movies. I choose to always be a student of what I love. All of it. It can be a struggle at times but my Yoga is the underlying force keeping all of the pieces together.
Yoga is really the art of waking up. Getting back to the true you. It can be that simple. Yoga offers up a way for us to see a world that is working for you instead of against you. Yoga reminds me that everything is connected so we must live, act, dance, breathe with awareness. If the journey really is the reward, then by golly I choose to enJOY the journey. I hope you will join me.
Love.
Related RSS Feeds