Nelly Duff
Joined

Location

Columbia Road, London
Profile Images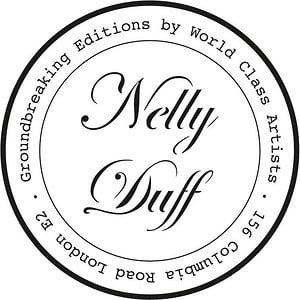 User Bio
Nelly Duff is an Edition House & Gallery established in 2005, nestled amid the creative heart of London's East End, on Columbia Road's famous flower market.
Nelly Duff exhibits editions and original pieces from artists at the forefront of the Street, Tattoo and Graphic art world, including international artists from Barcelona to Baltimore. Central to the successes of the gallery and the artists it represents is the strong development relationship between the two, who each continually strive to innovate via unique shows and special edition releases.
The gallery champions the development of high quality hand-made editions; supporting traditional craft and age-old techniques. Nelly Duff was one of the first physical spaces to exhibit Street Art internationally, and their editions are coveted by museums and private collectors across the globe.
Nelly Duff currently holds the world record for the highest number of screens used to produce a hand pulled screen-printed edition, with Ben Eine. The artist's 'Twenty First Century' canvas was gifted to President Obama, by David Cameron, during a state visit in 2010.
In March 2012, Nelly Duff was invited to be a main exhibitor at the prestigious 'Pick Me Up Art Fair', Somerset House. Here Nelly Duff presented a group show entitled 'Zoo', observing animals and their enclosures. Some 30,000 people attended the exhibition. Furthermore, in April 2012 Nelly Duff was invited by the Victoria & Albert Museum to take part in 'Street Art, Tripoli.' In partnership with the British Council, this was the first international exhibition to visit post revolutionary Libya.
In June 2012, Nelly Duff curated an installation of 10 old bangers, during which a derelict & flooded subterranean council estate Car Park became home to an experimental project in self-initiated regeneration- this critically acclaimed exhibition saw Nelly Duff challenge some of the world's most provocative social muralists to up-cycle!
Nelly Duff is regularly invited to contribute to lectures at the University of the Arts, London.
Such achievements confirm Nelly Duff as a leader of the emerging arts.
Nelly Love ♥ x
Related RSS Feeds