Rui Sa Jr
Joined

Location

Lisbon, Portugal
Profile Images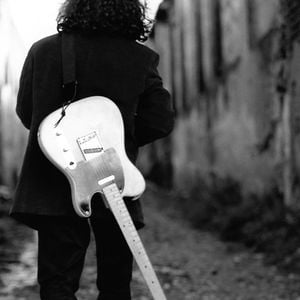 User Bio
rui sá, jr., músico e compositor, nasceu em Angola na cidade de Luanda, mas foi em Portugal que ainda muito jovem liderou algumas bandas de garagem, das quais «Banda de Estrada» foi a que mais se destacou ao chegar à final do Festival «Bandas Rock Pepsi» RFM, faz-se notar e realiza várias actuações no distrito de Lisboa.
Após um longo percursso no circuito de bares, avança determinado em 1996/97 e compõe todas as obras do seu Álbum de estreia, intitulado «histórias de um homem só», nasce o projecto Rui Sá, Jr. & os Paparazzi.
Dotado dum espírito temerário objectivo, decide entrar em estúdio por sua própria conta e risco, durante as gravações nomeia todos os músicos de forma criteriosa, Co-Produz e assina em parceria os arranjos das composições com Rui F Reis.
rui sá, jr. estreia-se na Semana Académica de Lisboa em Maio'98 nas docas de Algés e juntamente com a sua Banda inicia a primeira tournée nacional.
O Álbum de sonoridade «Rock Fm», merece atenções da PolyGram (Mercury), que aceita editar o LP' e contrata o Artista nesse mesmo ano, este acarinhado pelos Fãs, TV, Rádios Nacionais e Locais, consegue total «Air-play» em 1998/99 com os singles «Já não há condições» e «A noite é um dia», respectivamente.
A 30Abr2001, dia do seu aniversário, acontece a rescisão contratual anunciada com Universal Music e é no Auditório da Casa do Artista que no passado dia 04Mai2002 se realizou o espectáculo da apresentação oficial do seu novo Álbum de originais, intitulado «DURO DE ROER» com 11 faixas originais de sua autoria, assinatura do próprio na Direcção e Produção Musical, firmando assim a sólida carreira deste jovem músico, exigindo-se a continuidade do seu percurso impar e que após uma ausência notada, desta feita a solo, o artista «soma e segue».
Foram determinadas entre outras, acções várias de caracter promocional implicadas no lançamento do seu novo CD, que visam realizar algumas actuações ao vivo durante e após o corrente ano, em recintos «in-door» e/ou «out-door» de relevado interesse à difusão do entretenimento, tais como os memoráveis «ShowCases» e «Unpluggeds» para eventuais pequenos espaços, mas contempladas também as concentrações anuais de Clubes Motards e os estabelecimentos de Ensino Escolar, excepcionalmente num formato acessível de condições especiais, em colaboração directa com as Associações de Estudantes.
Entretanto, "EU, DE MAL A PIOR" é eleito segundo single entre outros previstos na calha, que pela mão da DEMO records portugal, se revelam desde já a aposta perfeita a promover em simultâneo com a distribuição deste novo Álbum pelos escaparates do mercado discográfico nacional e, que ambas as partes desejam de muito sucesso.
Author Music Composer
(english translation)
rui sá, jr., music composer, was born in Angola, Luanda city, but it was in Portugal that still very young led some garage bands, of which "Road Band" it was the one that was more distinguished when arriving at the end of the Festival "Bands Rock Pepsi" RFM radio, became to notice and carry through some performes in Lisbon city district.
In 1996/97 it advances definitive and it composes all the songs of it first Album, intitled "a lonely man histories", with his band Rui Sá, Jr & the Paparazzi.
Endowed with his reckless spirit, decides to enter in studio for him own account and risk, during that process nominates all the musicians with criterion form Co-produces and signs in partnership the arrangements of the compositions.
rui sá, jr., show appears in Lisbon Académic Week in May'98, in Algés dry docks and together with his Band began a first national tour. The Album of "Fm Rock" style, deserves attentions of the PolyGram(Mercury) label, that accepted the LP edition and contracts the Artist, with fans support, TV, national and local Radios, obtains great "Air-play" in 1998/99 with singles "Already no conditions" and "The night is one day", respectively.
April'30th of 2001, he's anniversary, happens the announced contractual rescission with Universal Music and is in the Artist House Theater, who in the past day May'4th of 2002 it was the official presentation show of his new Album of originals, intitled "Hard Ass", with 11 original tracks of he's authorship, with signature of the proper one in the produce music direction too, firming the solid career of this young musician, requiring the continuity of his journey odd, after a noticed absence, this time «a solo», the artist "adds and follows".
...They had been determined among others, shares several of caracter promocional implied in the launching of its new COMPACT DISC, will happen some live performes during the current next years, in enclosures "in-doors" and "out-doors" stages of raised interest to the entertainment diffusion, such as memorable "ShowCases" and "Unpluggeds" for small spaces, but also contemplated the annual Motard Clubs concentrations and the Schools all over the country, with an accessible format of special conditionsl, in direct contribution with Student Associations.
However, "I, OF BADLY MOST WORSE" among others foreseen in the «gutter» is select second single, that for the DEMO records Portugal hand, discloses since already appositive the perfect one single to promote in simultaneous with this new Album distribution, for the stores of the national discographic market and, that both the parts desire of much success.
Related RSS Feeds