Kurt Simonson
Joined

Location

Long Beach, CA
Profile Images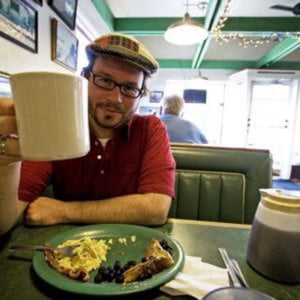 User Bio
Bio by Louie Huesmann, originally for the District Weekly thedistrictweekly.com/2009/print/we-love-lb-print/for-better-or-for-worse/
>>>
There was a time back in high school when Kurt Simonson knew very little about how to even use a camera. Today, as a professional artist and professor of photography at Biola University, he wouldn't be able to forget it if he tried.
Growing up in Minnesota, Simonson's passion for photography started with his mentor and friend Dave Smith. Through their friendship, he came to understand the role community plays in snapping pictures.
"Good art is all about community," the Long Beach resident says. "[Art] is a strange thing. It's selfish in a way, yet can be enjoyed by others. It's like giving someone a gift they didn't ask for."
Shortly after learning the craft himself, Simonson began mentoring young, aspiring photographers, eventually leading to a career in teaching photography.
"I have a lot more passion for working with other people than on my own," he says. "My art gets better after working with others. For me, photography is as much about the process as it is the product."
Undoubtedly the most unique and ambitious facet of Simonson's photography is his ability to recognize the many "in-between" aspects life – yet choosing not to resolve them. While he admits that the approach often produces quite a bit of tension, he still gladly invites it.
"In my own work, I gravitate toward tension—whether it's relational, spiritual, emotional. . . . There always exists a struggle," he says.
Simonson seeks for his work to embody that aspect of life, in both his teaching and his photography.
"You have to stay awake—have your eyes open to the world," he continues.
Whether through a series that explores the disconnected narrative of his own family, or traveling to Uganda to document the lives of a family of AIDS orphans, Simonson desires that his work never "arrive" by way of easy answers.
Rather, it lives and breathes with the rest of the world, very much alive and kicking—for better or for worse.
>>>
See louiethethird.com for more of Louie Huesmann's work.
Related RSS Feeds