Armando Capo Ramos
Joined

Location

Gibara, Holguin, Cuba.
Profile Images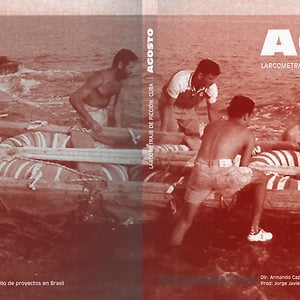 User Bio
Armando Capó is a recognized film director from "the new generation of cuban filmakers". He is know by his work on documentaries. In 2012 he won the selection to represent Cuba for the DOCTV Latinoamérica. In 2013 he was invited by the MOMA (The Museum of Modern Art) for a retrospective of his films, also invited to do so at the International Short Film Festival Winterthur (Internationale Kurzfilmtage Winterthur).
Born in Gibara (1979), a small fisherman's town in the north oriental coast of the island. He started as a plastic artist, graduated from Cuba's National School of Visual Arts in the specialty of Painting and in 2009 graduated form documentary at the Escuela Internacional de Cine, San Antonio de los Baños, Cuba (EICTV, Cuban film school). From ISA (Superior Institute of Cuban Arts) graduated in the specialty of directing film, TV and Radio.
Currently works as an independent director and teacher in documentary filmmaking at the Superior Institute of Cuban Arts. His works have been selected to participate in important festivals. He has produced several fiction shortfilms. Has been awarded for his films in Films Festivals as best director, best documentary, has received jury mentions and "La Marea" was selected for the critics as on of the best Cuban films in 2009.
Filmography

Work in Progress

¨La Celda¨/ ¨The Cell¨ Documentary video installation granted funding for Project Development by IBERMEDIA 2011. 
¨Agosto¨/ ¨August¨ Selected for Project Development for Central America & the Caribbean by IBERMEDIA 2012. Selected for Project Development at Taller Colón Workshop, TyPA Foundation, Argentina 2011 with the support of Cinergia. Winner Of the Call Cinergia Development 2011. Selected to participate in competition Unpublished Scripts Latin American Film Festival in Havana 2012. Selected in the second round of the call for development of Ibermedia 2013.

Films made

-Cuban Scenes. Films by Armando Capo. Documentary Fortnight. 2013 MoMA's International Festival of Nonfiction Film and Media. NY
- ¨La Certeza/ ¨"Certainty" Documentary. Winner for Cuba, DOCTV III, 2012.
Awarded grant as filmmaker in residence by Latin American Film Festival, Sao Paulo, 2011.
-¨Ausencia¨/"Absence" Documentary. 2011 Hazlotú S.L. EICTV, AECID. Selected & Screened at Documenta Madrid, 2011. International Festival of New Latin American Cinema 2011. New Filmmakers Festival 2012 awarded: Mention for best Documentary. Award Photography &, Sound. 
-"Breaking Límits", 3rd Festival of Experimental Cinema, Uruguay, special program dedicated to Documentary work.2011.
-¨Nos quedamos¨/ "We Stayed" Documentary 2009. EICTV. Premier in Selection of "New Avant-guard" International Festival of New Latin American Cinema 2010. Finalist at Girona Documentary Festival, Girona Festi.dok 2011.
-¨La Marea¨/"The Tide" 2009 Documentary- EICTV. 2nd Prize International Documentary Students Film Festival, FTII, Pune, India. Award for Best Documentary Short Film – Latin American Film Festival, Sao Paulo 2010. 
Special Mencion by the Jury Internacional Festival of Poor Cinema Gibara 2010. Award for Photography. 9th Exhibition of New Filmmakers 2010. 
Chosen by the Critics as one of the best cuban films in 2009. 
Special Mention from the Jury and Coral Award 31st International Festival of New Latin American Cinema 2009. 
-"Between Light & Faith" Awarded Best Documentary Film Project, 
 Buenos Aires DOC, Buenos Aires 2008 
-¨Revelación¨/ "Revelation" Documentary 2008 . EICTV 
-¨Inercia¨/ "Inertia" . (or "All Pantographers go to Heaven") Documentary. 2008 EICTV, Screened at IDFA 2009. Nominated as best Foreign Documentary, ICARO 2009. 
-¨Te quiero mucho¨/ "I love you very much ", Fiction, short film ISA. 2007 
Mention for Best Original Music, 8th Exhibition of New Filmmakers 2009
-¨Descubriendo Pancha¨/ "Discovering Pancha". Documentary. Co directed with Fernando Carapella. Italy/ Cuba 2004.
Related RSS Feeds