Profile Images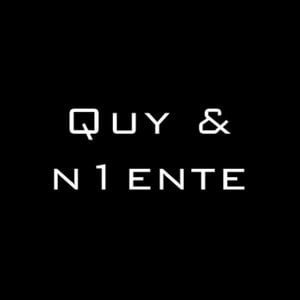 User Bio
Words are the most immediate and basic instrument of communication for everyday life, but at the same time the most deceptive and uncontrollable, being subject to misleading factors like languages, gestures and, not least, sounds.
What happens when two individuals meet up and have to put words aside to communicate? Starting from two extremely different cultural backgrounds, begins the exploration of a common emotional space where memories and roots, past and present give life to an artistic production in constant evolution.
This mobility makes Quy Sam and Giorgio Rinolfi's work an organic entity, elusive and visceral, where the contrast between media (video, installation, mapping, graphic, typography, sound) and styles brings an extraordinary harmony, intended as an agreement of purposes, as well as an attribute of sound and, most of all, continuity.
It's obvious then that the "live" dimension is a vital side of this partnership, as a head to head with other dimension to draw on. As a visual onomatopoeia, what is visible and audible it's exactly what would be expressed with a word, living and out of control, where sound, time and image could mean absolutely anything.
Quy Sam was born in Saigon, Vietnam. He studied at the Royal College of Art in London. He currently lives in Milan where he is driven by his creativity between art, music and design.
Giorgio Rinolfi was born in Genoa, Italy. He studied Media Design at NABA (Nuova Accademia di Belle Arti) in Milan. At Naba he also got a bursary for the master in "Digital Environment Design. He currently lives and works between Genoa and Milan as a Visual Designer.
Related RSS Feeds