Bradford Richardson
Joined
Profile Images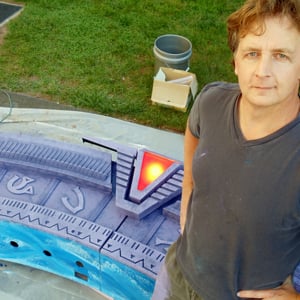 User Bio
I've been writing about my dumb-lucky misadventures since I could hold a crayon. Misadventures become our best stories. That's why I call my brand, MISADVENTURE COMEDY.
I write heart-warming stories about misfit characters who dream big, and when they awkwardly attempt to take charge of their own fates, they stumble into larger than life situations where achieving their goal requires them to finally confront their deepest fear which is often taking a risk on believing in themselves.
My Romantic Comedy short, SHUD-UP & KISS ME, became a Top Finalist in the, ABC Talent Showcase, 2014. It's an event ABC holds each year to showcase Actors & writers for Producers and Agents.
My half-hour Comedy TV Pilot, ZACH'S NEW GIG, became a Quarter-Finalist in the 2015 Stage 32 TV Writing Competition.
My Coming-of-Age Drama, RECKLESS WHEELS, (aka Evel Like Knievel), was an Amazon Studios December 2011, Best Screenplay Competition, Semi-Finalist.
2011 Dramatic Writing Assignment for UK Indie Producer, Ahmed Maasarani - MANIPULATION.
2nd Place Winner in Writer/Director Jessica Bendinger's Adaptation Screenwriting Competition for her YA Romantic Drama Novel, THE SEVEN RAYS. 2010
I'm a two time Austin Film Festival Screenwriting Competition, Second Rounder Finalist. 2006 & 2008.
Plus, I'm a two-time Top-Five Winner in the Screamfest LA, Screenwriting Competition. 2004 & 2005.
Before transitioning into screenwriting and experiencing several scorchingly close brushes with making it, I won a Regional Emmy for Production Design for Twin Cities Public Television, then jumped at the chance to be the Lead Graphic Designer for the Coen Brothers', FARGO, then THE BIG LEBOWSKI. Also did, MIGHTY DUCKS, SUGAR & SPICE, DROP DEAD GORGEOUS, and several more terrific projects including Tim Burton's unfinished, SUPERMAN LIVES.
Related RSS Feeds
Bradford Richardson does not have any videos yet.