Profile Images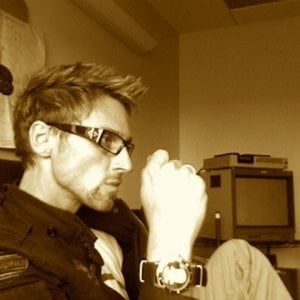 User Bio
Jamie McCarthy Music
Imagine Hunter S. Thompson and The Beastie Boys sitting at the bar - they'd be drinking Jamie
McCarthy's funky rock brew blended in the inspiration of G. Love and Special Sauce, Jack Johnson and
Citizen Cope. Jamie McCarthy came back for round two in 2008 with Salvation, the follow up album to 2007's
Strange Town. Salvation features Gotta Be, his soulful ballad, and Call Me Crazy, quite possibly the
funniest, sing-a-long song ever written about wanting to kill someone. Because don't we all feel that way
every once-in-a-while?
*Salvation was nominated at the Detroit Music Awards for best record this year.
This year Jamie and the band have released the third and final record in the Jamie McCarthy trilogy, Into The Mellow. The song America (Get Well Soon) is featured on Spin.com.
• SPIN magazine, will sponsor Jamie's upcoming release party for Into The Mellow on June 5th at the Magic Bag, in Ferndale as they did his show last year, where Jamie shared the stage with the Verve Pipe.
• Jamie's song Meant 4 Me appears in the new independent film Sometimes in Life, directed by
Anthony Vallone. Sometimes in Life also features music from two-time Grammy winner
Ozomatli, Modest Mouse and Michael Franti and Spearhead.
• Jamie recently appeared in a cameo role as The Repo Depo Guy and as the musical guest in
Episode 8 of Ced N Teri, the popular new web series directed by Mikey Brown.
• Marlon Young of Kid Rock's band and Vinnie Dombrowski of Sponge both played on Strange
Town, Jamie's debut album.
• Jamie has done everything from jamming with Harry Connick Jr. to producing rap tracks for an
artist in Chicago.
• Key dates: Jamie McCarthy and friends and Poor Boy Music at the Magic Bag in Ferndale Michigan
Watch for Jamie at the Chicago Taste this summer and an additional festival date is
pending. Detroit's leading alternative commercial rock station, CIMX FM 88.7, recently invited
him to play a show.
• Key press: Jamie recently visited WDET FM 101.9 (Detroit) for an in-studio performance/
interview, garnered airplay on WKQL FM 107.1 (Ann Arbor) and has taken the ink with several
media including Real Detroit, one of Detroit's two leading arts and entertainment weeklies.
Jamie is also a Director of content for many brands serving as a producer and director
Click here for additional photos and to see what Jamie's been up to lately:
flickr.com/photos/25795612@N04/
Stay tuned for more news and videos
Related RSS Feeds