thecodefendants
Joined

Location

LA
Profile Images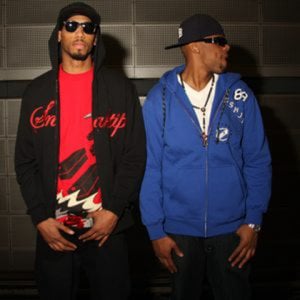 User Bio
The aptly named "Co-Defendants," comprised of the smooth singing J Holla (Jason Hollowell) and the quick witted MC/lyricist 3rd Deggree (Mario Jackson), are the architects of a matchless, "new school" sound that effortlessly meshes the raw, urban story telling of Hip Hop with the sheer emotion of classic R&B. This unique hybrid of genres sets this dynamic duo apart from their peers and places them at the forefront of the modern Hip Hop movement.
Jason Hollowell (J-Holla) and Mario Jackson (3rd Deggree) met while attending East Lansing High School in East Lansing, Michigan where they immediately became fast friends, bonding over their shared love of music but a collaboration between the pair was the farthest thing from their minds. J Holla joined the R&B group "The Goodfellas" and was in the process of signing with legendary Def Jam records while Mario continued to pursue his career in music closer to home.
While still in High School, Mario and a trio of his friends established 8th Wonder Records their own personal homage to Rawkus Records, the number one Hip Hop label of the time. The 8th Wonder crew went the way of the EP, putting together "Book of Rhymes... Chapter 1" that they literally sold out of the trunks of their cars garnering a sizable following in Michigan and its adjoining states. Believing in music as a movement and not just as individual successes, Mario became entrenched in the Michigan underground Hip Hop scene collaborating with artists such as OneBelo and becoming a regular at "Respiration", an underground Hip Hop night showcasing Michigan's best and brightest.
While Mario was making a name for himself at home, J Holla's road hit a major detour. In New York, putting the final touches on their deal with Def Jam, "The Goodfellas" dreams came to a halt when New York hit a standstill in wake of the 911 tragedy. Forced to regroup, J Holla returned to Michigan where he continued to perform with Mario and his 8th Wonder crew. Even as an unofficial duo their objectives never swayed. It was not until they received a phone call from a mutual friend asking the duo to host a poetry slam that the two realized the fans had officially paired them together. Still not thinking anything of it the pair continued to work separately until they received numerous requests to perform together prompting the two to finally realize that their unique sound could set them apart from other artists. "The CoDefendants" was born.
In the winter of 2009 Greg Whitman signed the "Co-Defendants" to his HIGH VALLEY ENTERTAINMENT label and the pair immediately hit the studio to begin work on their debut release "The Patdown" due out in the fall of 2009. After many years of turmoil, trials and tribulations this talented duo has finally managed to find their own recipe for success.
Related RSS Feeds
Recent Activity
thecodefendants does not have any activity yet.