Claudio A.G.Monteiro Filho, M.D.
Joined

Location

Recife-PE, Brasil.
Profile Images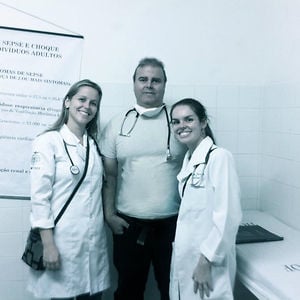 User Bio
I am an AMATEUR Editor , DP, and Filmmaker
About Me:

I grew up in Sao Paulo;Recife;Fortaleza which is all in Brazil; I have been as far as Finland,Norway,Sweden,Latvia and went to college in California.I am single , and I am living a life where everyday is different and my own personal goals get in the way of my current job in the Medical Field.
One thing has remained consistent in my life; Film Editing, Photography, Directing.
I am not talking about doing it professionally. I am talking about making home videos and what not. I have found a love for something that helps me express myself and helps me forget about sick people and diseases once in a while...
Since high school, I have been with musicians and cameramen, I have played in bands in Recife, I was on a band when I lived in California. I was always trying to be either the keyboard player or the singer, but my love is really the film look...motion pictures.
I have shot just about every thing from when I was with my first Video camera up until now. I have filmed birthdays, girlfriends, schools and people in general, done documentaries and what not. All in
and around the Recife area; in the north east part of Brazil. From high school to college, medical school, and everything in between.
My real passion does not live in filming people only. I enjoy big cities. I hope to someday take the craft of HD television and combine it with a nice project in the medical field; in the big city world; working with a television network like Discovery health.
The Brazilians have already started something; I want to help progress, the high Budget and high production values in the Emergency room documentary series that they are putting out now. Finally, I would like to work in a Medical documentary that takes the time to show off our medical world and the power of HD television production.
Hometown:Recife
Country:Brazil
Occupation:Musician, Blogger
Companies:state hospitals in my home town.
Hobbies:video editing, photography and directing.
Music:British Rock, Classic Music, Piano Jazz
Books:The Roads less travelled...
Recent Activity
This I am from Recife in Brazil South America, and this was a great video...