OBRA Architects
Joined

Location

New York, NY, 10013
Profile Images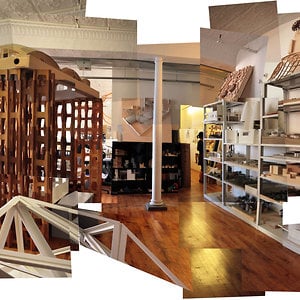 User Bio
OBRA Architects was founded by Pablo Castro and Jennifer Lee in the year 2000 in New York City. This year marks the opening of their third office in Seoul. Their Beijing presence originated with a special invitation to participate in an international design project in 2008 and expanded with their exhibition at the National Art Museum of China in 2009. OBRA's efforts span the realms of architecture on all scales, from international masterplanning and institutional work to the scale of interiors, furniture, and public art. OBRA has produced an impressive body of award-winning projects recognized by the American Institute of Architects, the Chicago Athenaeum American Architecture Awards, the Architectural League of New York, and the Museum of Modern Art New York.
Their work consistently seeks to evoke invention and interest through explorations of material, structure, site and experience. OBRA considers each and every project to be intimately bound to its surroundings, extending afield into site and landscape the conceptual understanding of the architectural work. As a result many proposals and built works include outdoor components and sensitive integration into the natural or urban landscape.
The work of OBRA has been exhibited widely, and has been featured at the Museum of Modern Art, PS1 Contemporary Art Center, the Solomon R. Guggenheim Museum, the National Art Museum of China, the Deutsches Architekturmuseum, and Rhode Island School of Design, among others. OBRA is the 2006 Winner of the PS1 MoMA Young Architects Program with its installation BEATFUSE! which opened to the public in June of that year. OBRA Architects was selected for the 2005 Architectural League Emerging Voices, and its installations have been included an emergency shelter prototype with furniture system for the National Art Museum of China's 2009 "Crossing: Dialogues for Emergency Architecture" Exhibit, as well as the recent Oxymoron Pavilion recently erected at the 2011-2012 Shenzhen Hong Kong Bi-City Biennale for Architecture and Urbanism.
Pablo Castro's design direction at OBRA Architects has produced a body of award-winning projects: four AIA NY Design Awards, 2008 ID Annual Design Review Award, and two 2004 Chicago Athenaeum American Architecture Awards. He is a 2006 NYFA Fellow in Architecture/Environmental Structures and a 2003 Society of Architectural Historians de Montëquin Senior Fellow. He participated in MoMA's 2007 Conversations with Contemporary Artists. He has taught at Barnard Columbia College, RISD, Parsons, Pratt Institute Graduate Architecture, and Cranbrook Art Academy. He has lectured across the globe, at Central Academy of Fine Arts (China), Tsinghua University, UC Berkeley, Universidad Nacional de Chile, Instituto di Tella, Universidad Diego Portales, RISD, Columbia University, Cranbrook Academy of Art, and most recently at ETSAM, Madrid. He is a 2012 Rome Prize winner honored by the American Academy of Rome.
Jennifer Lee has been collaborating with Pablo Castro since 1997. With the inception of their design studio OBRA Architects in 2000, she has co-directed over 50 works ranging from conceptual projects and masterplans to built construction. She is the 2007 Cooper Union Urban Visionary Emerging Talent, 2006 NYFA Fellow in Architecture/Environmental Structures, a 2003 Society of Architectural Historians de Montëquin Senior Fellow, Registered Architect in New York and a USGBC LEED-Accredited Professional. She has taught at Pratt Institute Graduate Architecture, Cranbrook Art Academy, and the Irwin S. Chanin Architecture School at Cooper Union. She is currently teaching in Seoul, Korea at the Korea National University of the Arts.
Current work includes a large masterplan development in Gyeonggi-do outside of Seoul, Korea, on a 660-hectare site, which includes a wide range of programs, from educational and cultural facilities to resort and healing spaces. Recent work also involved masterplanning of art residences, community centers,and park in Nikola-Lenivets, Russia, a floating cinema in London, and private residences in Argentina and Costa Rica. They have expanded their international reach to include several projects in China, including museum interiors, hotels, extended stay residences, and private villa developments, along with a few ongoing projects in early planning stages in various areas in and around Beijing including a primary school with boarding dormitories that is scheduled to begin construction next year.
Related RSS Feeds