Velelia
Joined

Location

Rome, Italy
Profile Images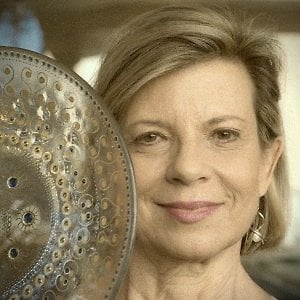 User Bio
Since she was a child, the greatest joy and continued inspiration for Maria Giacomella Simeoni came from working with her hands, using every natural element available to her, with the single purpose of drawing, modeling and creating. At only 11 years of age she began to study painting with the Russian artist Lydia Franchetti in her studio at Villa Strohl-Fern. This was an important part of her artistic education crowned by enjoyable successes, including the participation in the "Student Art Exhibition" at the Exhibition Palace in Rome.
After years of intense study and experience of painting with oils and watercolors, from 1976 she began to concentrate on painting on porcelain that, while originally seemed to be a new and involving form of decorative expression, it quickly transformed into a participatory and organizational commitment: over twenty years of individual and group exhibitions, conferences and painting courses.
In 1993, 'Velelia' was born – an Etruscan inspiration of a female figure dating from the sixth century BC - a portrait of a free and refined woman. A beautiful adventure began with glass as the protagonist, and the art of its transformation through the ancient technique of fusing, of which Maria Giacomella Simeoni knows its secrets, making it her own with new, unique and surprising creations.
Taking inspiration from Paul Valery, an awareness emerged: "Of all the arts I do not know anything more fascinating and mysterious than those invoking the fire. The artist creates, she knows where she is going. But only when it comes out of the kiln, is the work done. It is often different from the original expectations, it is new, it stands out, it is unique, unrepeatable. An extraordinary emotion."
Over the years, Velelia's glass artworks have been shown and admired in exhibitions and events across Italy, including "Artistry at the Palace" at Palazzo Corsini in Florence and "From Murano to Rome in the world" in the exhibition halls of the Bramante in Piazza del Popolo and sold successfully in the book shops of some of Rome's most important museums (including the Vatican Museums, the National Gallery of Modern Art and the Exhibition Palace) and at the Caffè Greco in via Condotti and "SARAY" at Portico d'Ottavia. In the occasion of specific exhibitions, many works have been sold and appreciated in England, the United States and Japan.
Velelia continues to express her emotions inspired by Italian art, as well as the culture of the world with which she comes into contact, thanks to her deep relationship with life, with feeling and with her own spirituality.
"The only true source of art is our heart. Close the eye of your body to be able to see the creation with the spirit's eye. Beauty is the stretch animated by life, when it reaches the sublime natural. It is important to suggest without showing too much. The inexpressible, in painting, comes from this secret, the suggestion" (Fabienne Verdier)
Related RSS Feeds