Profile Images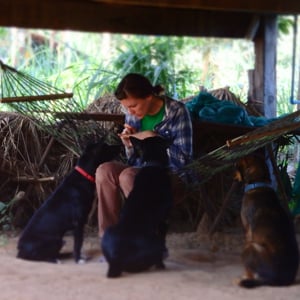 User Bio
Four years ago I came to Thailand with my partner, Wills to volunteer to help elephants in captivity at the Surin Project. Little did we know that the most wonderful puppy would find and choose us to be her family. We fed her gave her love and named her Harrison; we came back to volunteer with Surin Project again 6 months later and Harrison was still there, she was still called Harrison and she remembered us!
We were lucky enough to be offered jobs at the Surin Project as Volunteer Coordinators and have been working in Thailand helping elephants (and dogs!) for over 2 years now. Harrison had 3 puppies, Ford, Indie and Jones (the adventure family!) but sadly Indie went missing in September 2013 along with a few other dogs in the village, unthinkably thought to have been taken for the dog meat trade.
Many puppies and kittens have been dropped off on our door step and we have given love, fostered and found homes for most but sadly a few have not survived. We have 1 puppy (now 1 year old) named Dobby, whom we did not find a home for and now he is 100% ours we could not be without him.
So we now have 4 dogs that depend on us and we depend on them, we are moving back to the UK in May 2015 and we cannot leave without them. We are starting the processes of preparing all four dogs with the correct vaccinations, microchips, blood tests and treatments that they require before we leave. This is a massive undertaking but we are willing to do whatever it takes to bring these four beautiful dogs back home with us where they belong. Leaving them behind is not an option; there is no one else in the village here that would take care of them if they stayed, most other dogs here have dreadful skin conditions, covered in fleas and ticks and receive no love or cuddles.
Please help us to keep our family together, any donation that you can give will help to enrich these four dogs lives. The money raised will be spent on their vet care and preparations prior to leaving Thailand, transportation costs getting from Surin to Bangkok, Bangkok to London, London to Aberdeen (Scotland) and Aberdeen to the Shetland Islands where we live. Money will also be spent on accommodation for the dogs along the way to have breaks in between travel and food of course!
You can donate via the link below, please share and help to raise awareness for our cause. gofundme.com/helpmyfurryfamily
Paws and licks of love for your support!
Kirsty, Wills, Harrison, Ford, Jones and Dobby.
Related RSS Feeds
Recent Activity