verdecoprente
Joined

Location

Lugnano in Teverina TR Umbria IT
Profile Images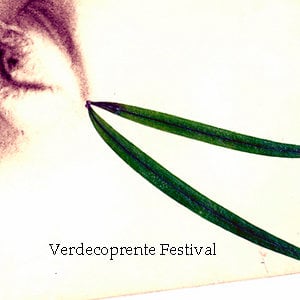 User Bio
Verdecoprente Festival è stato definito nella sua edizione zero il festival del paesaggio. In effetti è proprio sui "paesaggi che ci nutrono" che si concentra il festival, intesi come spazi in cui culture e nature si incontrano prendendo forma nelle scene, nelle arti e nelle poetiche del contemporaneo. Teatro, musica, canto, arti performative e visive, percorsi senso-percettivi e multimediali, installazioni site specific, sono le scritture d'artista con cui si delinea il percorso originale del festival. Un teatro totale, un intervento che si dilata nel territorio in luoghi e modi poco convenzionali, mostrandone aspetti inconsueti.
Verdecoprente è un progetto di Vocabolomacchia teatro.studio, laboratorio di produzione, ricerca e formazione sulle arti performative e visive, formazione indipendente che opera a livello internazionale, nata all'interno dell'Associazione Ippocampo, ente culturale no profit.
Il Festival è realizzato con la partecipazione e la condivisione di più artisti, creativi, cittadini, strutture, aziende ed enti locali del Comprensorio Amerino, basato su un sistema di promozione collettiva che raccoglie risorse private e pubbliche, dal co-finanziamento dei promotori, alla collaborazione di enti e amministrazioni, ai contributi dal basso che arrivano attraverso network ed eventi.
Verdecoprente is a project of Vocabolomacchia teatro.studio, a production laboratory also covering research and formation in the field of performing and visual arts, an independent formation that works on an International level. It stems from the association Ippocampo, a cultural non profit facility.
The Festival is being realized through the participation of and in alliance with other artists, creative professionals, citizens, institutions, companies and local authorities of the district of Amelia. It is based on a system of collective promotion gathering private and public funds as well as co-funding by the promoters, collaboration of the authorities and administrative departments and contributions obtained via networking and events.
For 2013, the provisional list confirms the presence of the communities of Alviano, Amelia, Giove, Lugnano in Teverina, Penna in Teverina, the Region of Umbria and the Province of Terni, Unicoop Tirreno, Urban Experience media partner and others.
In its edition 0, Verdecoprente has been defined as the festival of landscapes. In fact the festival concentrates on the "landscapes that nourish us". These landscapes are intended to be spaces where culture and nature meet taking shape in contemporary scenes, arts and poetry. Theatre, music, singing, performing and visual arts, senso-perceptional and multimedia trails, site specific installations are the artistic writings with which the original trail of the festival reticulates the territory. A total theatre, an intervention that shall be displayed on the territory in unconventional places and means showing specific aspects.
Related RSS Feeds