Ex's With Benefits
Joined

Location

Seattle and San Francisco
Profile Images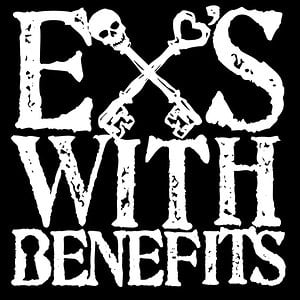 User Bio
EX'S WITH BENEFITS are
DMITRA SMITH - lyrics/vocals
ALEX D'VINCÉNT - drums/music
PASCAL FAIVRE - guitars/fingers;
DAVE PLACE - bass/graphics
Biography
Ex's with Benefits are an amazing energetic Alt/Punk/Rock band with deep roots in Seattle and San Francisco. Started by Alex Vincent, (drummer for the pioneering grunge band Green River, whose other members went on to form Pearl Jam and Mudhoney) along with Dmitra Smith, singer of San Francisco band, Static People, who were recently voted Best Post/Punk/alternative act at the 2013 Artists in Music Awards in SF.
Ex's With Benefits really began when Alex reached out to Dmitra in hopes that she would sing over some recently completed songs.
The two originally met in high school in Seattle. Alex had a mohawk and a kilt, Dmitra had new-wave poodle hair. Neither of them kept in touch with the exception of the knowledge that the other was doing some kind of punk music.
When Alex got back the songs with Dmitra's vocal tracks over them, he started sending her more.
It was then that Dmitra and Alex pulled in renowned Static People's guitarist (and Dmitra's husband) Pascal Faivre to play.
The demos then found their way to Dave Place, a friend of a friend. Dave heard Ex's needed a bass player so he locked himself in his home studio and learned all the songs before reaching out to Alex for an audition. When they got together they played the entire set...twice.
Ex's with Benefits recently finished recording and mixing their debut LP. Produced by noted Seattle musician/composer, Phillip Peterson houseofbreakingglass.com/
and mixed by Seattle music legend, Steve Fisk stevefisk.com/
Ex's are searching for a label and are poised to take West Coast Punk Rock to the next level.
No matter how many people are in the venue, when Ex's fire it up, every body in the room will move towards the stage like moths to a flame.
We suggest that you download these and play them in your car really loud. Especially at a stoplight.
Neither Alex, Dmitra nor Dave are not ex's, and do not share "benefits". (Though it is believed that Pascal and Dmitra might just share benefits - but are definitely not ex's - for they are married.)
Related RSS Feeds